Section 144 imposed in Lahore for seven days:
The caretaker government in Punjab imposed section 144 for a week in three parts of the provincial capital Lahore citing terror threats amid rallies and protests.
The additional chief secretary has released a notification:
States that all forms of meetings, protests, and processions are forbidden between the Mian Mir Bridge and Istanbul Chowk.
Also in the vicinity of the Civil Secretariat and the streets near Main Boulevard Gulberg.
Rallies and demonstrations pose a significant security threat in the historically important and commercially vital areas of Mall Road and Main Boulevard Gulberg in Lahore.
On February 26:
The Pakistan Super League will visit Lahore.
And a large crowd is expected to go along Main Boulevard Gulberg to the Qaddafi Stadium.
The government has implemented Section 144 in Lahore.
Section 144 Notification
The following is the Notification: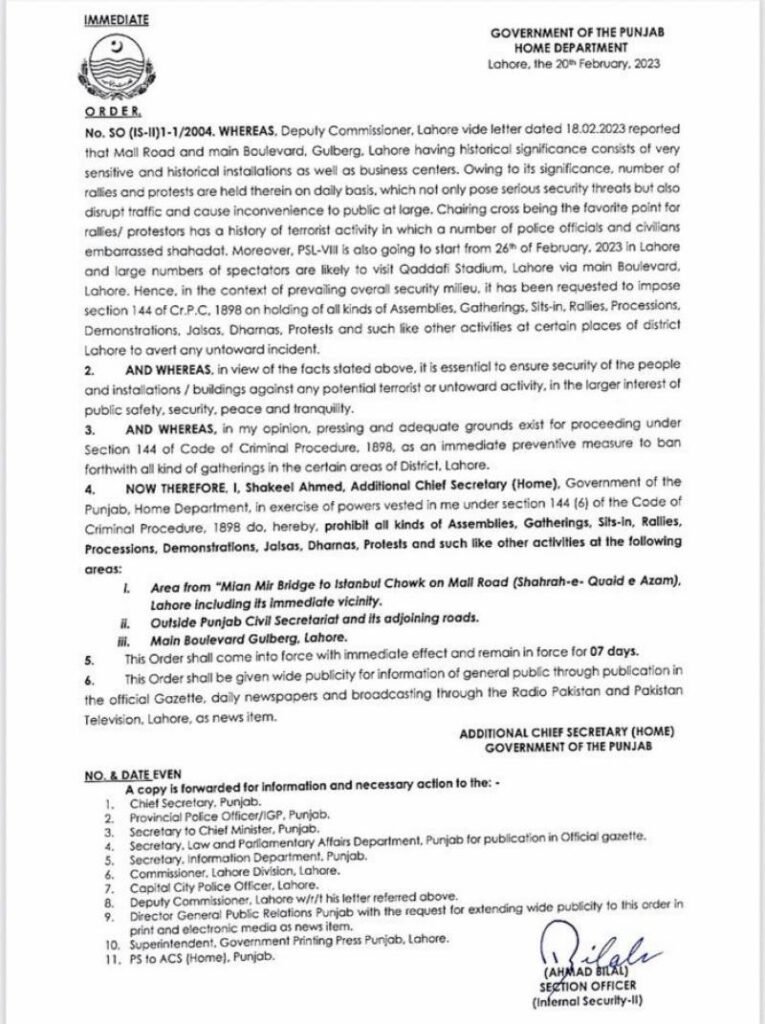 The Imran Khan-led party would profit from the latest action by the Naqvi-led caretaker setup in its court arrest movement as it offers legal justification for arrest.
Imran Khan, who leads the Pakistan Tehreek-e-Insaf, announced last week:
His party's "Jail Bharo Tehreek" will commence on Wednesday from the capital of Punjab as a demonstration against the mistreatment of PTI leaders and the state of the economy.
Read More: Islamabad Court Again Defers Indictment Of Imran Khan In Toshakhana Case
A local court in Islamabad once again deferred the indictment of former prime minister Imran Khan in the Toshakhana case till February 28.
Additional Sessions Judge Zafar Iqbal took up the case for hearing today.
Last year,
The Election Commission of Pakistan (ECP) sent a reference to the court in November after finding Pakistan Tehreek-e-Insaf Chairman guilty of corrupt practices.
On Tuesday:
The legal team of the former PM Khan sought another exemption from personal appearance on medical grounds.