Ushna Shah apologised publicly to fashion blogger AB Lakhani after she accused him of sneaking a drone into her wedding and sharing her photos without her consent.
Ushna chastised Lakhani on Monday for breaking the rules of his invitation by bringing a plus-one, photographer Saad Ahsan, and a drone to document personal moments, including her nikkah.
But, Ushna apologised for defaming Lakhani on social media yesterday and accepted that she made a mistake. She also acknowledged the power and effect of social media, as well as the need of prioritising mental health above social media approval.
On her Instagram story, She Wrote:
"The embarrassment I will face after this doesn't outweigh the importance of apology.
I would like to publicly apologise to AB Lakhani. He did not ask me to, I simply don't want to begin my new journey with this weighing down my conscience."
she further Added:
"I had no right to besmirch him (AB Lakhani) online, even if he did bring in a photographer without permission, the world didn't end."
According to Shah:
Her wedding day was ruined by several violations, and she was bombarded with trolling comments, which had a negative impact on her mental health.
she wrote:
"A new bride, managing so much, a nikkah violated with an unknown drone, hundreds of thousands of trolling messages took a bit of a toll on me. AB was simply the final straw."
And then, she concluded:
"What matters is the incredible man I married, the wonderful family I married into, the beautiful day we had, and the abundance of love we received."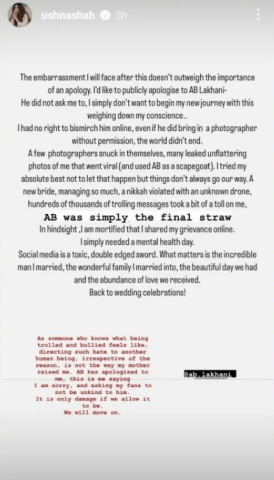 Earlier,
Ushna not only accused the blogger of violating the terms of the invitation but also of sneaking in a drone to record the private nikah ceremony on the water, causing her to cry.