Pakistani golf player Hamza Amin and actor Ushna Shah tied the knot recently, with their photos and videos going viral on social media.
Ushna was dressed in a red lehenga designed by Pakistani brand Warda Saleem, which she wore while dancing with her husband and others at the wedding.
Some social media users criticized her for wearing a red lehenga and objected to her dancing at the wedding festivities.
On Monday, the actor used Instagram to publicly identify the guest who did not follow the terms specified in the invitation.
Ushna Shah's Instagram Story
On her Instagram story, she wrote:
"I am disgusted and feel violated. AB Lakhany, of Moovyshoovy, was invited out of obligation as I have known him for years and he happened to be at the office where we were designing invitations. His invite said strictly no plus one."
She further Added:
"He was then sent a memo along with other guests to not record personal moments, especially the nikah. Not only did he bring a plus one, but he also brought a photographer without permission [and] lied to my family that I had allowed this. That photographer then sent exclusive unapproved photos to various [media] portals."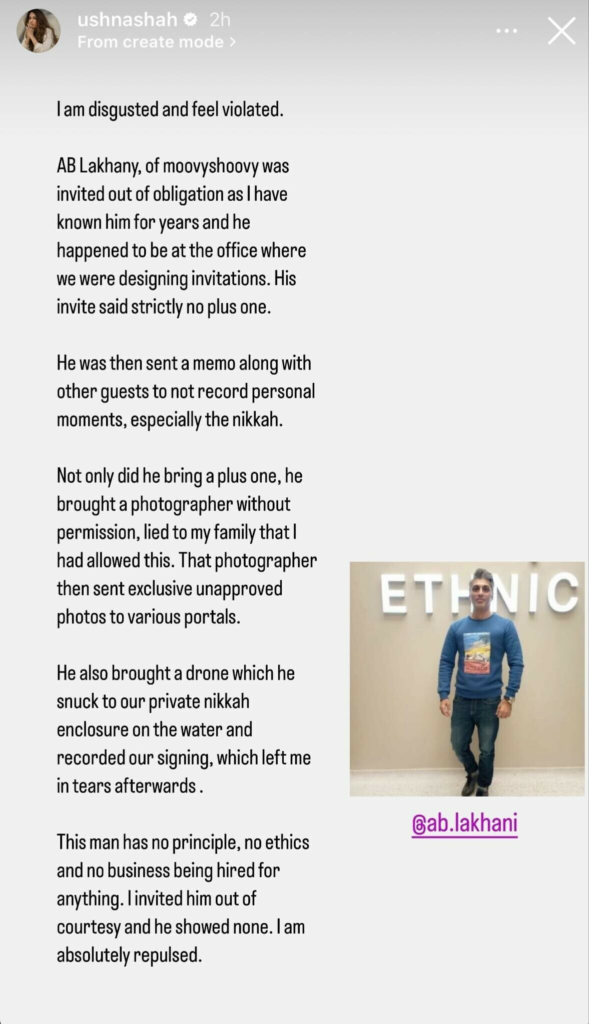 She not only accused the guest of violating the terms of the invitation but also of sneaking in a drone to record the private nikah ceremony on the water, causing her to cry.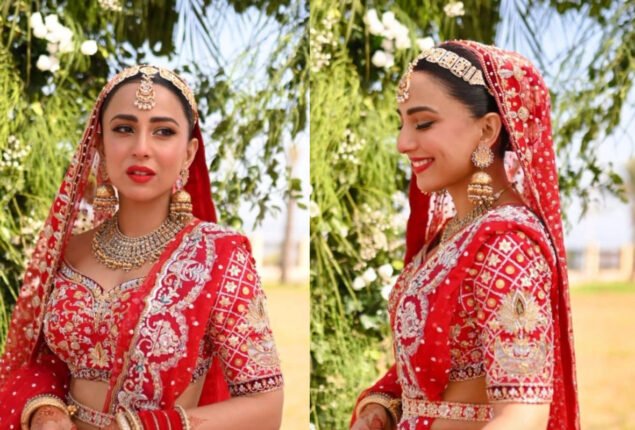 She further stated that the guest had no principles or ethics and should not be hired for any job.
Additionally, she shared screenshots of the invitation she had sent to Lakhani.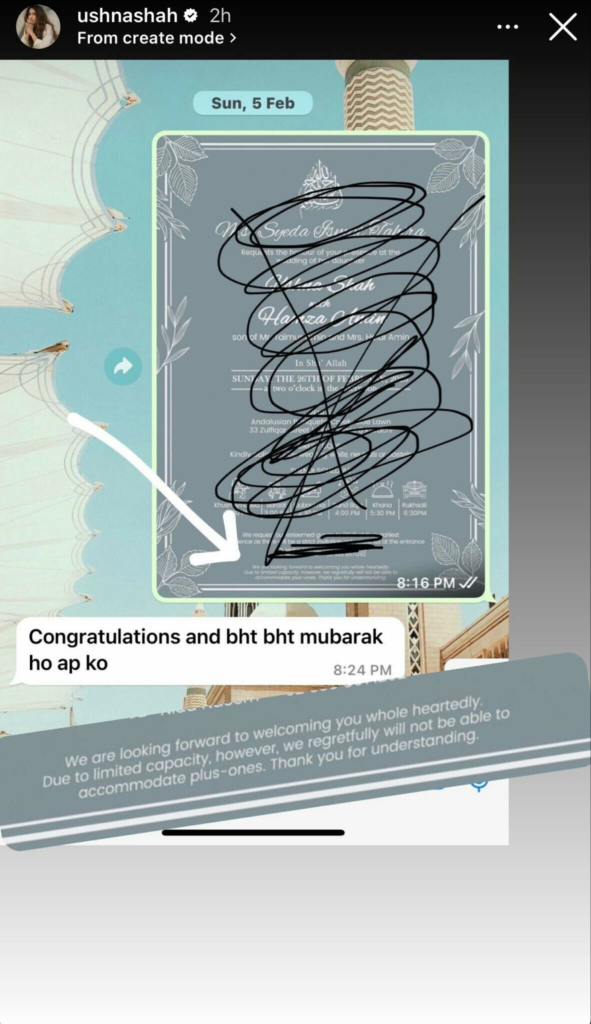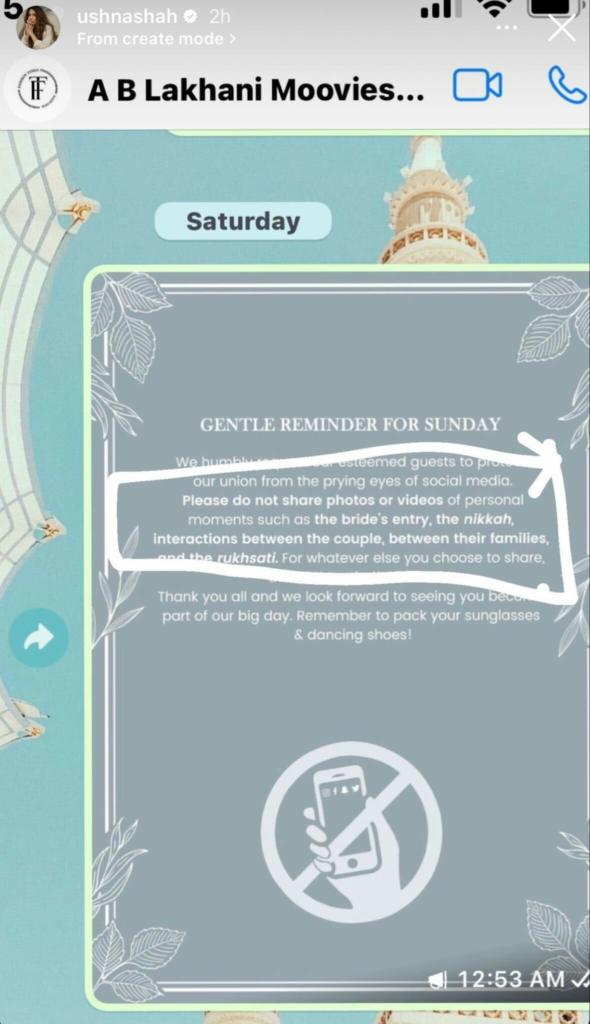 Ushnan further posted on her Instagram story, she questioned:
"The drone was hovering loudly next to my head during my signing I had to shoo it away. I had a sick feeling in my stomach wondering who it was.
Does any bride deserve this?"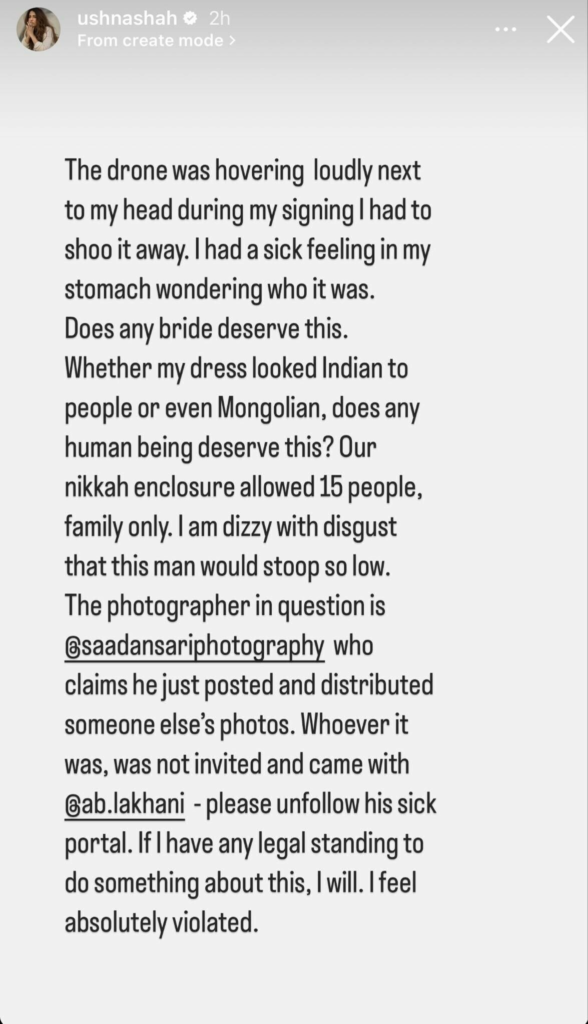 she added:
"Whether my dress looked Indian to people or even Mongolian, does any human being deserve this?
Our nikah enclosure allowed 15 people, family only. I am dizzy with disgust that this man would stoop so low."
The actor further added:
The photographer in question was Saad Ansari Photography who "claims he just posted and distributed someone else's photos.
She concluded:
please unfollow his sick portal. If I have any legal standing to do something about this, I will. I feel absolutely violated.