Lahore High Court refuses to order against arrest of Ch. Parvez Elahi
LAHORE/ISLAMABAD: The Lahore High Court today turned down plea for issuing orders against police attempts to arrest former chief minister Chaudhry Parvez Elahi.
Rasikh Elahi, son of Parvez Elahi filed a petition in the LHC on Tuesday, seeking court order against the police and anti-corruption raid on their residences.
The court, however, sought a report from the IG Punjab Police and Director Genera of Anti-Corruption on the next hearing.
"Under which law can the court order not to arrest him," Justice Sardar Sarfraz Dogar questioned the lawyer of the Elahi.
The court noted that it cannot issue any such order until an official report is furnished.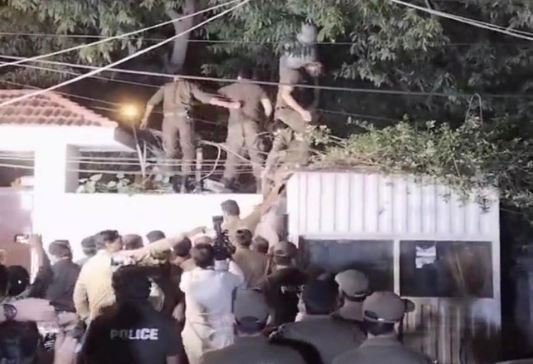 Punjab police conducted another raid at the resident of former chief minister of Punjab Chaudhry Parvez Elahi late Monday night.
This time the police raided Gujrat residence of Parvez Elahi in a bid to arrest him.
Chaudhry Parvez Elahi, is President of the opposition party Pakistan Tehreek-e-Insaf (PTI).
Police officials searched the Kunjah House of Chaudhry Parvez Elahi in Gujrat to arrest him in corruption cases.
PTI Chairman Imran Khan has strongly condemned the raid at the residence of party president Parvez Elahi.
Sohail Zafar Chattha, the Director General of Punjab's Anti-Corruption Establishment (ACE), led the raiding party. He, nonetheless, left the residence of Elahi along with the police contingent.
Chattha told the media they did not act illegally and that a petrol bomb was thrown at the police party who came to arrest Elahi.
Earlier, the police and anti-corruption halted their operation, claiming that Elahi was not present at his residence, though his mobile phone's location showed he was there.
The raiding officials took into custody 27 people from the residence of Elahi _ servants working in the household of the former Punjab chief minister and PTI workers.
The raid took place hours after the PTI and PDM resumed talks on election dates. Importantly, PTI has demanded an end to the arrest of their workers before holding talks with the PDM leaders on elections.
Earlier, in February this year, police raided the residence of the former Punjab chief minister two times, but they could not arrest him.
PTI leaders and supporters have condemned the police action and termed it a deliberate act of the caretaker government to embarrass the PTI leaders.