The authorities at the Wagah border in Pakistan welcomed a group of 3,000 Sikh pilgrims from India to celebrate the Baisakhi festival.
The Sikh Parbandhak Committee head Sardar Amir Singh and Evacuee Trust Property Board (ETPB) Additional Secretary Rana Shahid Saleem warmly welcomed the pilgrims.
Group leader of Sikh pilgrims
Sardar Amarjit Singh, the group leader of Sikh pilgrims, spoke on the occasion and stated that they have come to spread a message of peace and love.
He also added that the land of Pakistan holds great significance for Sikhs worldwide.
Rana Shahid Saleem assured the Sikh guests that the best facilities will be provided to them during their stay, despite India not permitting a special train for pilgrims this year.
Sardar Amarjit Singh also mentioned that the pilgrims will be visiting Gurdwara Nankana Sahib and other holy places.
The main celebration for the Baisakhi festival will take place on April 14 at Gurdwara Panja Sahib in Hasan Abdal, and Pakistan has granted visas to 2,956 pilgrims from India, valid from April 9 to 18.
Many of these pilgrims are visiting Pakistan for the first time, while some are here to visit their ancestral homes.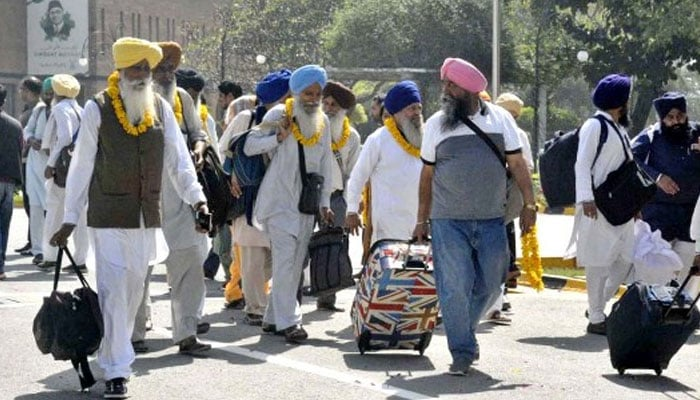 Madhan Singh from Jalandhar and his sister Surjeet Kaur from Delhi wish to see their native Mansehra.
Surjeet shared that she was only one and a half years old when the subcontinent was partitioned in 1947.
Unfortunately, during the partition riots, the siblings' father, Moti Singh, passed away. However, they desire to visit the land where they were born and pay their respects.
Madhan Singh informed that their grandfather had three brothers, and one of them had stayed in Pakistan and converted to Islam.
Their Muslim relatives still reside in Mansehra's Kashmiri Bazar, and Madhan keeps in touch with them over the phone but has never met them.
The two siblings have requested the authorities to permit them to visit their ancestral home for a few hours to meet their relatives.
Also Read: One-Day Physical Remand Of PTI Leader Gandapur Granted To Police