ISLAMABAD: Foreign Minister of Pakistan Bilawal Bhutto has termed the incident of Bannu an alarming situation in the country.
He said that a tough action must be taken against extremists especially Tehreek-e-Taliban Pakistan (TTP) _ an outlawed militant outfit.
Bilawal said that a hostage crisis that emerged on Dec 18 in Bannu's CTD center when some TTP's terrorists seized control of the (CTD) compound.
After taking control of the CTD's compound, TTP militants took several personnel hostages.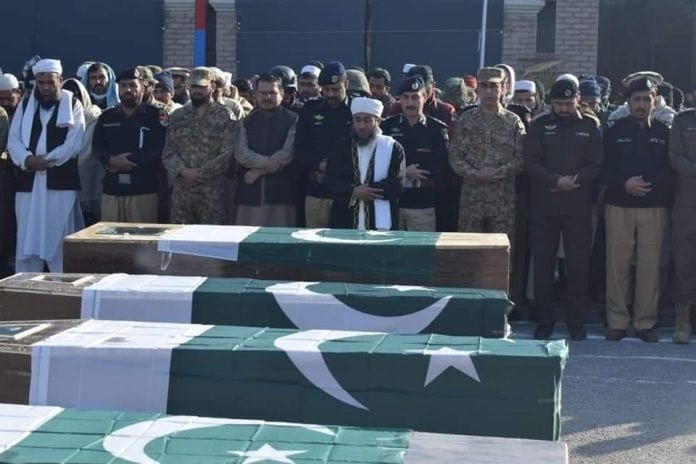 Foreign Minister while addressing the US think tank Atlantic Council, said that Pakistan was serious in eradicating militancy and terrorism.
He pointed out that the security situation in Pakistan today was much better than it was in 2007.
All the 25 terrorists who belonged to the TTP were killed in a major operation at the CTD Center on Tuesday afternoon. Three commandos of the Special Services Group (SSG) embraced martyrdom during operation while some others sustained injuries.
The Director-General of the ISPR Major-Gen. Ahmed Sharif Chaudhry stated this on Tuesday night to share with media and people the details of operation against TTP at the Counter-Terrorism Department (CTD) police station in the Bannu.
The ISPR director general said that on Dec 18, a detained TTP terrorist overpowered a constable at the CTD center located inside Bannu Cantt. The TTP militant snatched weapon from the constable and freed 34 other terrorists detained there.
"As soon as they came out of lockup, the terrorists got more weapons from the arms depot and started firing in the compound," he added.
Maj-Gen. Ahmed Sharif said that the terrorists martyred one CTD constable, took a junior commissioned officer hostage and they demanded safe passage to Afghanistan.
He said the government turned down their demands, launched a major operation on Tuesday and the security forces fought with militants bravely and killed 25 terrorists.
Earlier, on Tuesday, the security officials resumed the operation as the TTP militants neither surrendered nor released the CTD officials to whom they had taken hostage. Security personnel belonging to the FC, CTD and local police have launched a joint operation against TTP militants on Tuesday noon.
In Bannu, the administration has suspended the cellphone service and also declared an emergency in the hospitals.
According to locals, sounds of bullets can be heard from inside and outside the CTD center after the security forces initiated action against TTP men.
As per media reports, TTP militants were seeking safe passage from the CTD center along with their fighters who were being interrogated at the center.
The security forces and TTP militants continued talks for the third day on Tuesday and the security forces initiated action after the failure of the talks.
Earlier, the standoff between the security forces and banned Tehreek-i-Taliban Pakistan (TTP) militants continued till Tuesday as the Counter-Terrorism Depart­ment (CTD) centre in Bannu remained under the militants' control.