Comsats University Islamabad (CUI) has informed the Ministry of Science and Technology that a faculty member's employment has been terminated for posing a controversial question during the English composition Quiz.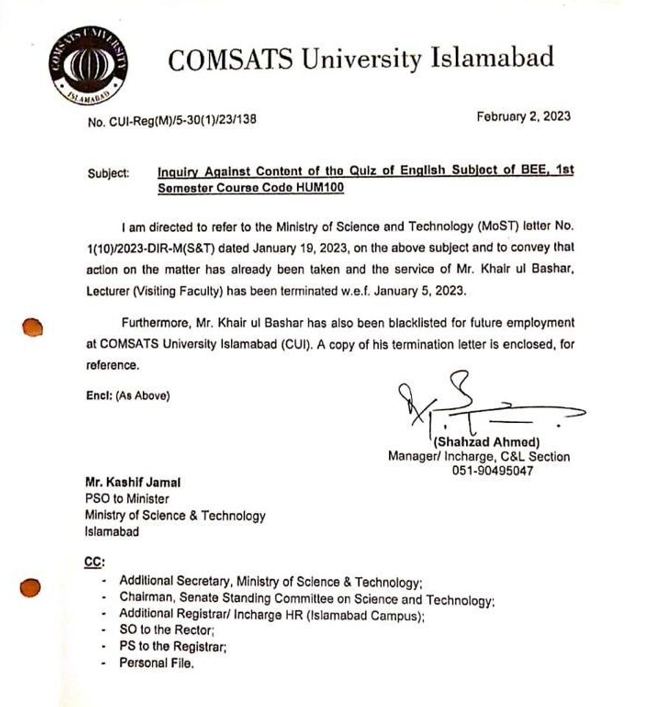 QUIZ: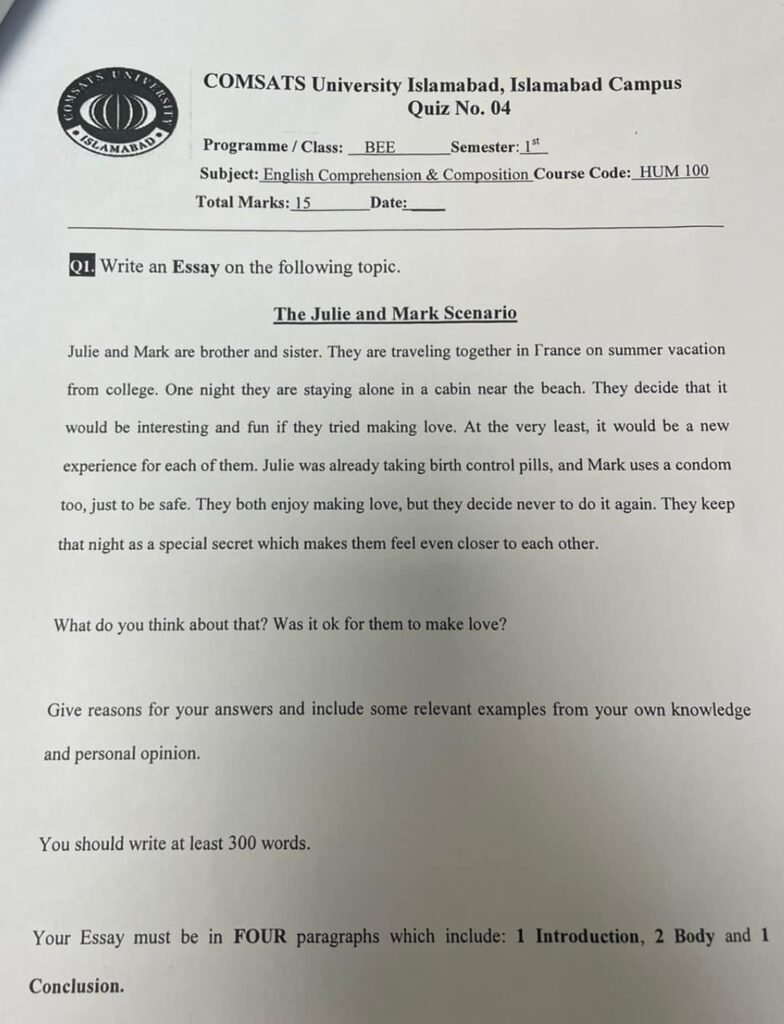 The administration of the university made this announcement:
"[An] inquiry against the content of the quiz of English Subject of BEE, 1st Semester Course Code HUM 100. I am directed to refer to the Ministry of Science and Technology letter dated January 19, 2023, on the above subject and convey that action on the matter has already been taken and the service of the Lecturer (visiting faculty) has been terminated with effect from January 5, 2023."
The statement further stated that the authorities had placed the professor on a blacklist.
Quiz Questions
When the students in the Bachelor of Electric Engineering (BEE) program at CUI came across a highly objectionable question in their English exam, they were "shocked" and then asked to write a 300-word essay on the subject.
"The question given to students taking the BEE English Composition exam was really terrible," said Assistant Registrar Naveed Ahmed Khan when contacted.
He said that the next day, the rector called a meeting and asked the faculty member to defend asking such a "stupid question" to students in the first place.
"The faculty member admitted his fault, and the CUI terminated his services," he stated.
What more could we possibly do?
The faculty member took the question from Google and the university terminated his services, as he pointed out.
The university also made the students retake the quiz.
When asked about the inquiry by the Ministry of Science and Technology, he replied that CUI had already given its response to the government.
A Faculty member said:
The incident was "highly shameful and it also exposed the examination system" of the university.
He said:
"Why did the examination department and concerned department not notice this question, and why did they ask the students such an inappropriate question?"
He stated that when students raised this issue, university management acted immediately.
The professor, on the other hand:
He believed that the ministry found out about the incident and subsequently caused the termination of the lecturer's employment.
According to the additional registrar:
The faculty member was terminated on January 5, although the ministry was informed of this on January 19.
He confirmed that the government received CUI's response on February 2.
Read More: Sindh Govt To Promote Students Without Exams
Lecturer's Termination Letter