The Sindh School Education and Literacy Department has announced that students in grades I through III will be promoted to the next classes without taking examinations, based on the decisions made by the steering committee's subcommittee.
According to a notification released on February 2 by the education department:
The body's subcommittee met on December 12 of last year and decided that the new academic session will begin on August 1.
The committee also agreed to begin fourth- through eighth-grade examinations after Eidul Fitr, which ends on May 6.
The HSC (XI and XII) examinations will start on May 22, while the annual exams for grades IX and X will begin on May 8.
The test dates have been established in light of the holy month of Ramadan.
The education administration also decided that SSC Part II results would be made available on or before July 15, and SSC Part I (IX) results would be made available in September.
The results of HSC Part-II (XII) will be made public on or before August 15, 2023, while the results of HSC Part-I will be made public 60 days later (XI).
question paper Pattern
It is worth noting that the committee agreed last year that 60% of the question papers would be descriptive and 40% would be multiple-choice.
According to the committee members, the development of MCQs appears to have had little effect on student ratings for a number of reasons.
Because of the system's bad practices, this change in the paper layout has made it simpler for students to get such marks.
As a result, the pattern must be changed. A committee member suggested that the questions be designed with comprehension rather than knowledge in mind.
The redesigned format will include three sections: lengthy questions (60 points), short answers (40 points), and multiple-choice questions (20 points) (40 marks).
The committee also decided that Asan Sindhi, an SSC-level topic, would be taught in accordance with the boards' SSC Part 1 recommendations.
Meanwhile, Additional Director Rafia Javed of the Directorate of Inspection and Registration of Private Institutions instructed all private schools to follow the decisions made by the Education and Literacy Department's steering committee on the administration of exams and the start of the new academic session on December 12 and February 20, 2022, respectively.
Read more: GB CM Orders Exhaustive Inquiry Into Kohistan Mishap
Circular: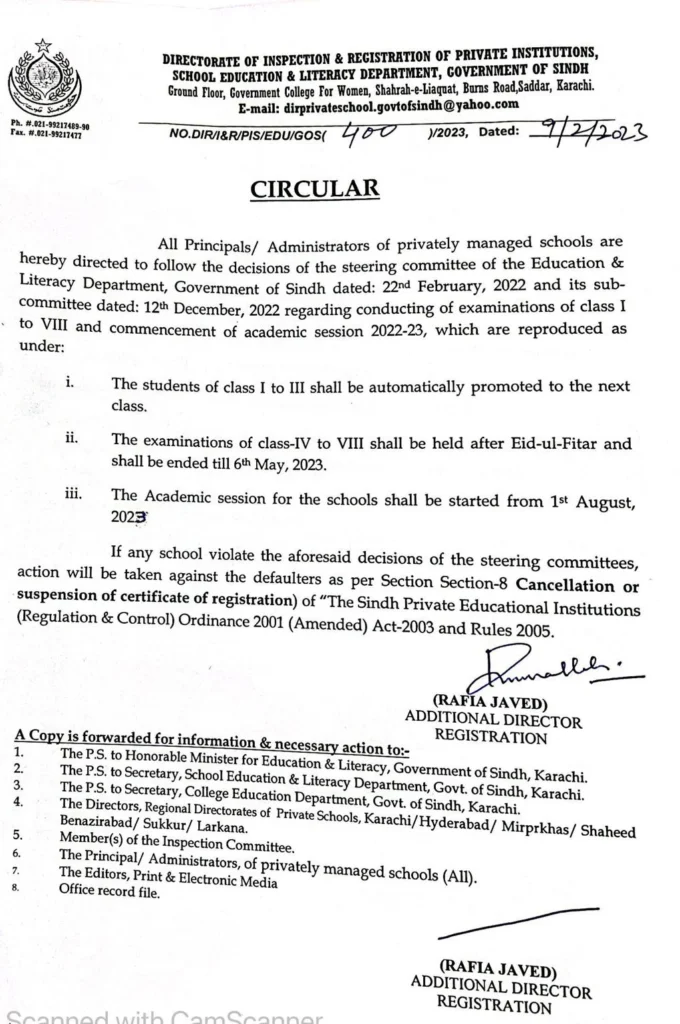 Javed further announced in a circular that students in classes I through III would be advanced to the next grade immediately and that students in grades IV through VIII will take their examinations after Eid Ul Fitr.
according to the announcement:
The new school year will begin in August.
The additional director also issued a strong caution against rejecting the recommendations of the steering committees.