7 dead as Lahore-bound train catches fire in Khairpur:
Officials have confirmed that a Karachi Express train caught fire near Tando Masti Khan in Sindh's Khairpur district during the early hours of Thursday, resulting in the deaths of seven people, including four children. Mohsin Siyal, the District Coordination Officer for Pakistan Railways, confirmed the casualties.
Dr. Abu Talib, the police surgeon, also confirmed the death toll.
He mentioned that they would undergo DNA testing before returning to their families because six of the bodies were unidentifiable.
The Civil Hospital in Khairpur has received the bodies. At present, the cause of the fire remains unknown.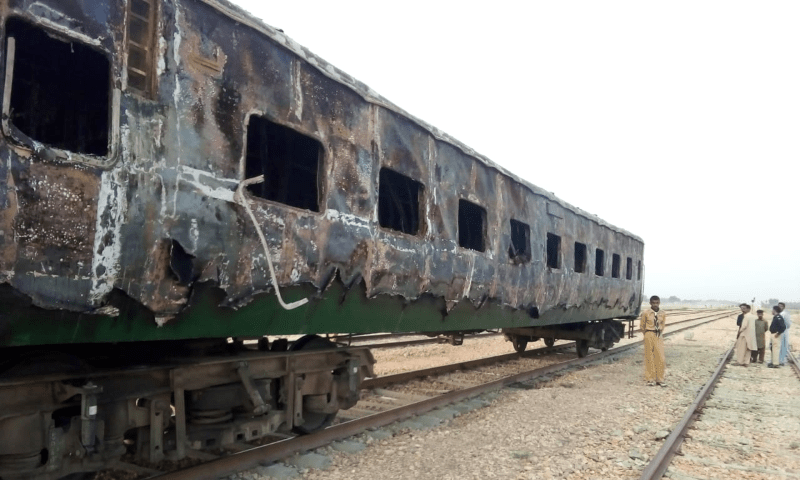 According to a press release by PR, the train was en route from Karachi to Lahore when the department received an alert at approximately 12:30 am that the air-conditioned business coach was on fire.
The train halted near Tando Masti Khan station, and the fire brigade summoned.
The brigade arrived at roughly 1:50 am and took 40 minutes to extinguish the flames, as stated in the PR announcement.
The press release went on to mention that a 70-year-old woman was among the victims.
While attempting to leap from the burning carriage, she was severely injured and later died from her injuries.
The statement reported that at 6:45 am, the train continued its journey to Lahore after detaching the affected carriage.
The Sukkur district commissioner, the district coordination officer, and other railway officials were present at the scene, as stated in the announcement, overseeing the situation.
Train Incident-Railways Minister Khawaja Saad Rafique
Meanwhile, Railways Minister Khawaja Saad Rafique ordered an investigation into the incident and established a team headed by the federal government inspector of railways.
It's worth noting that in October 2019, three bogies of a Tezgam train bound for Rawalpindi caught fire near Liaquatpur in Punjab's Rahim Yar Khan, resulting in 73 fatalities and 40 injuries. Then-railway minister Sheikh Rashid claimed that a cylinder explosion during breakfast preparation caused the fire.