Viral Video Of Snowfall At Makkah's Masjid Al-Haram Is Fake:
Viral Video Of Snowfall At Makkah's Masjid Al-Haram Is Fake
JEDDAH – A doctored video purporting to show the first-ever snowfall at Islam's holiest site, Masjid al-Haram, has gone viral on the internet.
Following the rain in Makkah on Sunday evening, videos and photos of snowfall in Masjid al-Haram circulated on social media.
The popular video, according to the Saudi National Meteorological Centre (NMC), is a hoax.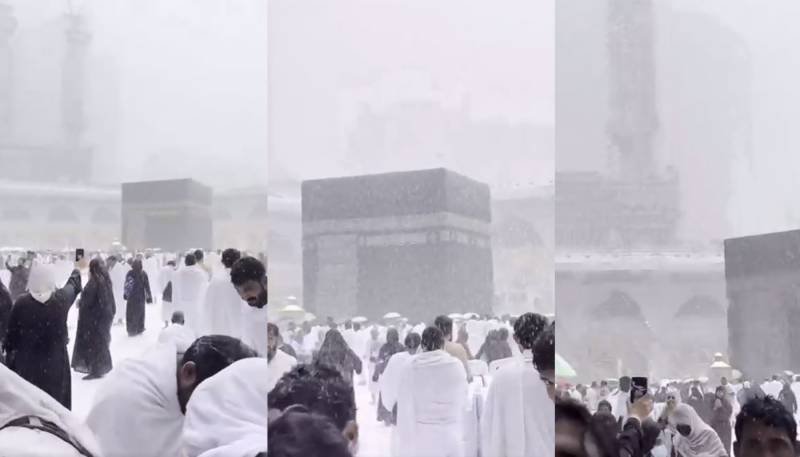 The 55-second clip, which depicted pilgrims taking advantage of the heavy snowfall at the Grand Mosque, first appeared on Facebook and YouTube, according to details.
Shorter versions of the video were later shared on other social media platforms.
The clarification came after social media users expressed their big shock at seeing snow in the revered Masjid al-Haram, which became a trending topic.
The video was most likely edited with a few filters from an online mobile app that allows users to apply artificial intelligence to videos.
Rain Alert has been issued in several areas, including Mecca, Jeddah, Rabigh, and Al-Kamil.
The showers were expected to continue, along with surface winds, high waves, hail, and torrential rains.
And reduced visibility, according to the Met Office.
Furthermore, snowfall is predicted for northern Saudi Arabia but not for any of the holy sites.
Earlier, According to the notification,
Only 5-Liter Zamzam Water Allowed To Each Pilgrim
Saudi Arabia reduced the supply of Zamzam water to pilgrims in order to reduce the waste of holy water.
Only 5-liter Zamzam water will be provided to foreign pilgrims.
Along with valid Umra/Hajj visas, according to a Saudi notification issued on Dec 31.