US assistant secretary Pyatt rushes to islamabad to discuss clean energy and help govt to obtain IMF loan
ISLAMABAD: The Department of State's Bureau of Energy Resources Assistant Secretary Geoffrey R. Pyatt is reaching Islamabad today on a two-day visit.
Pyatt is reaching Pakistan at a time when the government has sought the United States help, once again, to soften IMF conditions to get loans. Pyatt will visit stay in Pakistan from March 14-15. The IMF has been delaying deliberately resumption of loans to Pakistan.
The Assistant Secretary will stress the U.S. commitment to ensuring Pakistan's sustainable energy future by promoting cooperation on regional energy security. He will also support Pakistan to adopt to the clean energy transition through the U.S.-Pakistan Green Alliance. 
Meanwhile, in Lahore, he will visit the Lahore University of Management Sciences Electric Vehicle Labs to highlight technological advances made through U.S.-Pakistan cooperation. 
In Islamabad, he will lead the U.S. delegation for the U.S.-Pakistan Energy Security Dialogue. Assistant Secretary Pyatt will also meet with officials from the Government of Pakistan and participate in a roundtable with women leaders in energy.
Moreover, on Monday, the US Ambassador Donald Blome said that the United States advances women's inclusion in Pakistani policing to empower women.
In this connection, the U.S. Embassy in Pakistan hosted the National Women Police Conference today at the Serena Hotel in Islamabad.
Funded by the U.S. government, the conference united key stakeholders in policing and women's rights under the theme of "Inspire, Empower, and Transform."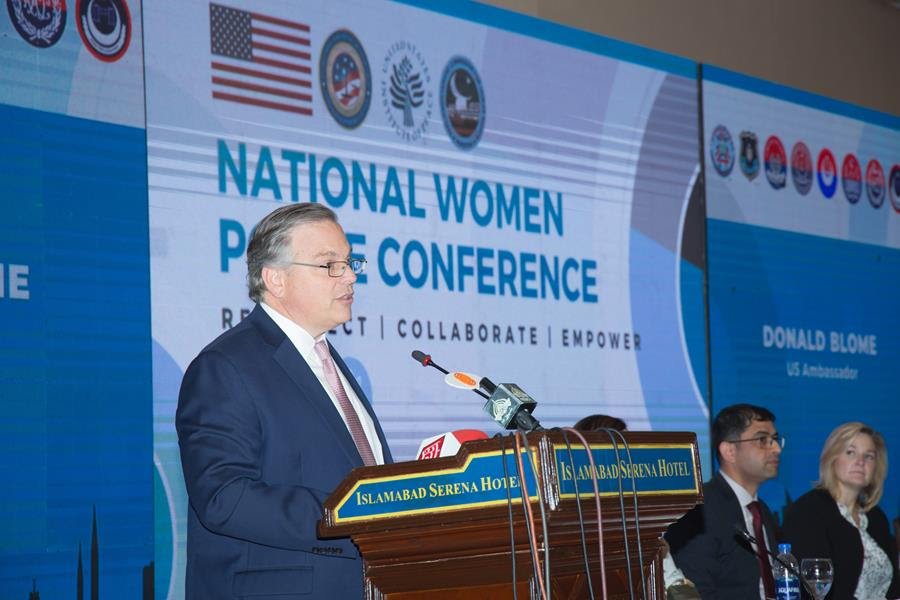 The United States Institute of Peace (USIP) and the Parliamentarians Commission for Human Rights (PCHR) helped organize the conference.
During his remarks, U.S. Ambassador Donald Blome emphasized the importance of women's inclusion in policing and the need for innovative policies to ensure equal access to justice.
Blome commended the organizers and attendees for their efforts in promoting women's rights and empowerment. He expressed his hope that the conference would lead to positive outcomes and tangible results.