ISLAMABAD: The foreign exchange reserves of the State Bank of Pakistan further dropped to $5.82 billion by Dec 23, 2022.
According to the SBP, the reserves fell because of $294 million repayment of external debt during the week ending Dec 23, 2022.
Total reserves amounted to $11.707 billion, including $5.885 billion reserves with the commercial banks in Pakistan.
For the first time in decades, the SBP's reserves fell below the commercial banks foreign exchange reserves. Commercial banks held $5.88 billion reserves till the week ending Dec 23, while the SBP's reserves fell to $5.82 billion.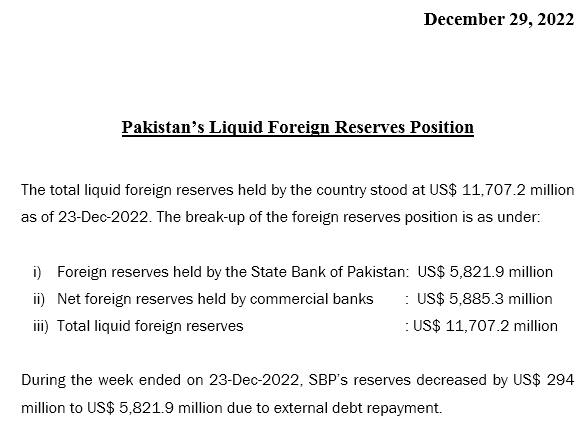 In the first week of January 2023, Pakistan will have to make payment of another $1 billion foreign loans to Dubai-based two banks.
The government obtained these two loans in 2022 with one-year maturity, anticipating that the lenders will extend repayment deadline at the time of maturity.
According to details, Pakistan will have to repay $600 million and $415 million to Dubai-based two commercial banks.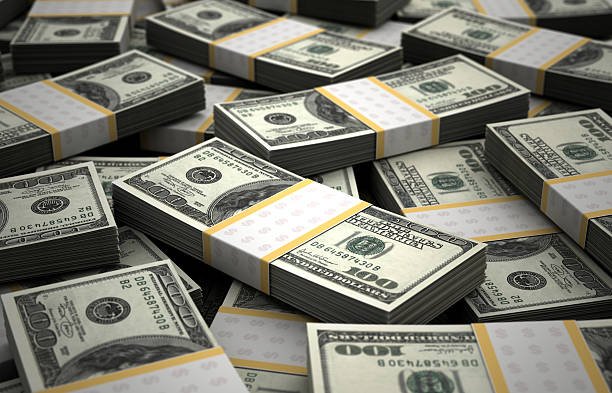 If the government did not line up new loans in coming week, the foreign exchange reserves of the State Bank would further decline from $6.1 billion to around $5 billion _ the lowest since 2014.
Finance Minister Senator Muhammad Ishaq Dar asserted on Wednesday in Karachi that Pakistan "will not default" on its international payments.
He asserted that the government has secured $31 billion required financing for the ongoing fiscal year 2022-23, Express Tribune reported on Thursday.
However, despite finance minister's assurance, Karachi stock market shed more than 500 points on Wednesday _ the day Dar tried to convince investors of a turnaround in the economy of Pakistan without facing default.
Experts believe that $32 billion financing plan of the government may not materialise without IMF support.
In the month of January 2023, if the coalition government failed to arrange foreign loans, the reserves with the central bank will vanish.
Also, the dollar-rupee exchange rate will further deteriorate, creating more problems for the masses in the country.
On Thursday (Dec 29), the exchange rate of dollar versus rupee again crossed 227 rupees in the inter-bank and close to 238 rupees in the open market.