PDM's container and protesters enter the red zone, reach outside the Supreme Court to launch sit-it
Ignoring the request of the federal government, the PDM leaders and protesters are gathering outside the Supreme Court of Pakistan to launch their sit-in today.
Containers equipped with different facilities and decorated with PDM flags also reached outside the Supreme Court of Pakistan.
In this short video, you can see the PDM workers crossing the Red Zone gate forcibly in violation of Section 144.
The PDM container, leaders, and thousands of workers have gathered outside the Supreme Court of Pakistan setting aside the Section 144 imposed in the city and no entry in the Red Zone.
The Pakistan Democratic Movement (PDM) President Maulana Fazlur Rehman seemed to have ignored the federal government's request to shift the venue of the sit-in to D-Chowk.
The Federal Federal Interior Minister and Finance Minister Senator Muhammad Ishaq Dar held two meetings with PDM chief Maulana Fazlur Rehman on Sunday and urged him to change the venue of the sit-in to D-Chowk from outside the Supreme Court building.
Meanwhile, talking to the media following the last round of meetings with Maulana Fazlur Rehman late Sunday in Islamabad, Interior Minister Rana Sanaullah said the PDM chief was empowered to decide about the venue of the protest sit-in.
He said that the PDM chief would take the final decision in this regard by morning in consultation with the heads of all allied parties of the ruling alliance.
"Tomorrow's [Monday] sit-in will be peaceful and a single pot will not be broken," he added.
Finance Minister Ishaq Dar and Jamiat Ulema-e-Islam-Fazl (JUI-F) leader Maulana Abdul Ghafoor Haideri among others were also present on the occasion.
Meanwhile, the federal government urged the chief of the Pakistan Democratic Movement Maulana Fazlur Rehman to shift the venue of his planned sit-in from outside the Supreme Court to D-Chowk.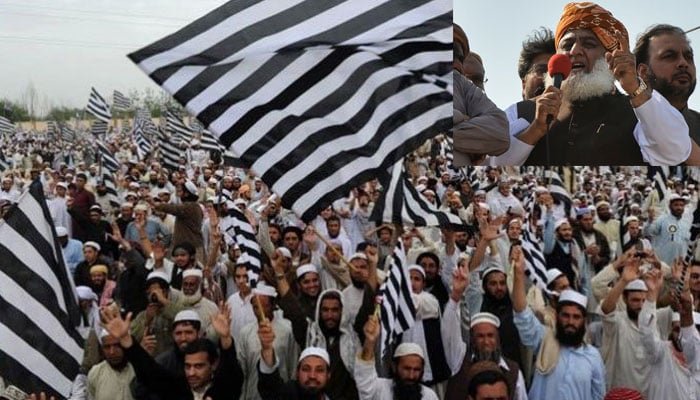 PDM, the ruling alliance of about 13 political parties, is launching its 'dharna' from Monday for an indefinite period, seeking the resignation of chief justice Umar Ata Bandial.
PDM announced the sit-in as a protest against the chief justice for "facilitating" and giving "VIP protocol" to the former prime minister and PTI Chairman Imran Khan and a spree of bail in multiple criminal cases.