Pakistani rescuers pull young boy alive out of debris after 137 hours in quake-hit Turkiye:
Following the devastating earthquakes on February 6, the death toll in Turkey and Syria has continued to rise.
According to the most recent estimates:
The deadliest earthquake to hit the area killed almost 33,000 people. Many survivors have been left homeless and exposed to the severe cold.
Local and foreign rescue workers are still searching through the rubble of hundreds of collapsed structures than a week after the fatal earthquake activity in the hope of finding survivors.
Despite the mounting death toll, miraculous stories of survival continue to emerge.
Pakistani rescuers
A Pakistani rescue team was able to extricate a 15-year-old boy alive from the wreckage of Adiyaman city after 137 hours.
A Pakistani Army rescue crew retrieved two survivors who had been buried beneath the wreckage in a Turkiye area devastated by the earthquake for more than 48 hours last week.
The Pakistani Embassy in Turkiye
The Pakistani Embassy in Turkiye tweeted about the development and shared videos of Pakistani rescuers rescuing wounded from the rubble and providing first aid.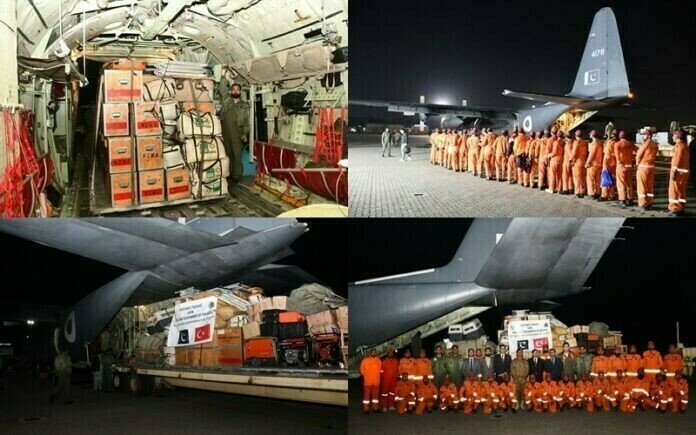 according to the embassy:
The two survivors were discovered in the wreckage of a multi-story structure in Adyaman, Turkiye.
Embassy Further added:
"our people will continue to do everything they can to help in rescue and relief."
On February 7, the Pakistani Army "deployed two contingents — an urban search and rescue team comprised of rescue experts, sniffer dogs, and search equipment, and a medical team comprised of army doctors, nursing staff, and technicians, as well as a 30-bed mobile hospital, tentage, blankets, and other relief items — to Adana, Turkiye via special aircraft of the Pakistan Air Force." (PAF).
As instructed by Chief of Army Staff (COAS) Gen Syed Asim Munir:
The teams are collaborating closely with the Turkish government, armed forces, and their embassy in Islamabad to give help to the Turkish people.
The contingents will stay until all relief and rescue activities are complete.
The death toll from Monday's devastating earthquake in Turkiye and Syria has topped 15,000.
And, Rescue efforts are underway to assist survivors trapped beneath the rubble after the earthquake levelled hundreds of buildings.
Also Read,