MOSCOW: Foreign Minister Bilawal Bhutto Zardari in a joint press conference with his Russian counterpart Sergey Lavrov expressed the hope that the "strong tradition of diplomacy of Russia would help achieve a diplomatic resolution to the Ukraine conflict besides underscoring the consequential economic impact on Pakistan and other developing countries due to the ongoing war.
FM Bhutto undertook an official visit to Moscow at the invitation of Foreign Minister of the Russian Federation Sergey Lavrov. He reached over the weekend for a two-day official visit.
conflict Resolution for the common good
"We have a firm belief that all conflicts can be resolved peacefully and there are no obstacles which diplomacy cannot surmount. Ukraine conflict is no exception. Developing countries like Pakistan are facing negative consequences of the conflict in terms of economic impact".
He said Pakistan considered Russia an important player in Asia. He added that the country would keep up high-level contact with the Russian Federation.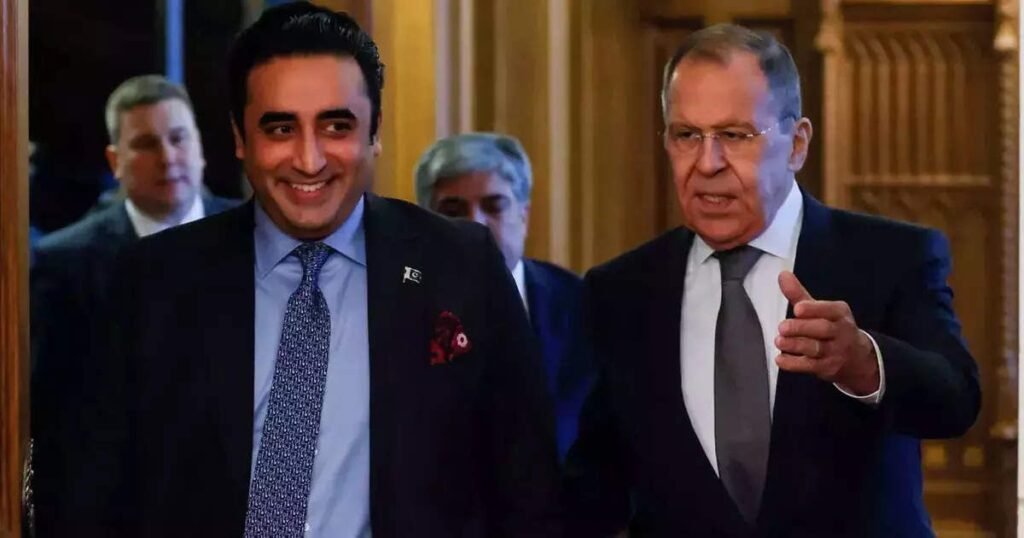 Apprising media of the meeting, FM Bilawal said their "friendly" and "detailed" discussion encompassed all aspects of bilateral relations and regional matters.
75th years of Bilateral Cooperation
Bhutto shed light on how both countries were celebrating the 75th anniversary of bilateral diplomatic relations. He expressed Pakistan's desire to strengthen its cooperation with Russia in the fields of trade, security, defence, counter-terrorism, education, and people-to-people contacts.
Bilawal spoke about the summit-level meeting between PM Shehbaz Sharif and Russian President Vladimir Putin in Samarkand as well as the 8th Inter-Government Commission held in Islamabad which focused on trade, economy, and energy cooperation.
"We also discussed bilateral cooperation at multilateral fora including the United Nations and Shanghai Cooperation Organisation (SCO)," he said. "Pakistan and Russia had good cooperation on Afghanistan and wanted to achieve common goals of peace and stability in the war-torn country."
energy Cooperation
FM Bilawal on Pak-Russia energy cooperation, said the incumbent government was committed to coping with the country's energy needs.
Currencies of Friendly Countries
Pakistan will pay for energy purchases from Russia in "currencies of friendly countries", said the Russian energy ministry.
Earlier this month, Pakistan and Russia decided to address all technical issues. The technical experts deliberated on areas of insurance, transportation, and payment mechanism. The final agreements will be signed by late March this year. The agreements include the supply of Russian oil and other petroleum products at discounted rates.
valued Foreign Relations
FM Bilawal added that Pakistan valued its cooperation with Russia, the United States, and Europe. "The country consistently called for dialogue and peaceful resolution of disputes."
cooperation for the elimination of terrorism
In his remarks, Russian Foreign Minister Sergey Lavrov said Russia was satisfied with its military cooperation with Pakistan. He said both countries were holding regular military contacts including joint exercises and military training.
The Russian foreign minister also condemned the terrorist attack in the Peshawar mosque earlier in the day. He called for global cooperation for the elimination of terrorism.
Lavrov said that during the meeting they discussed building humanitarian, cultural, and educational links. The two sides deliberated upon the entire spectrum of bilateral relations. They exchange views on regional and international issues of mutual interest.