A day after a leopard escaped and injured several people in a wealthy neighbourhood of the capital, the Islamabad Police filed a case against an Unknown/unnamed person on Friday for "domesticating" a leopard.
Authorities spent hours attempting to trap the cat after images of it dashing along a road and mounting a wall in Islamabad's Defence Housing Authority (DHA) Phase II suburb went viral on social media yesterday.
Islamabad Police Tweeted Today:
Read More: Leopard Strays Into Housing Society In Islamabad
'Alive and well'
Climate Change Minister Sherry Rehman tweeted:
"This leopard who escaped from a private zoo last night In Islamabad is alive and well at our Animal Rescue centre at the old zoo. It's 6- hour capture op injured one of our Wildlife staff quite badly. Costs to the community and the animal could have been much higher.STOP pvt zoos"
The Islamabad Wildlife Management Board (IWMB) shared videos of leopard, showing that he is "in good health."
IWMB Tweeted:
"Male Leopard is in good health at IWMB's rescue and rehab centre. IWMB scientific committee will decide next steps for leopard rehabilitation. Leopard has been named Deeaitchay by IWMB staff"
Leopard Strays Into Housing Society In Islamabad
Islamabad's 'wayward' Leopard caught after seven hours of hide and seek
After frantic attempts spanning more than seven hours, wildlife and rescue personnel rescued a cheetah that had earlier that day entered a house that was still under construction in Phase II of Islamabad's private housing society.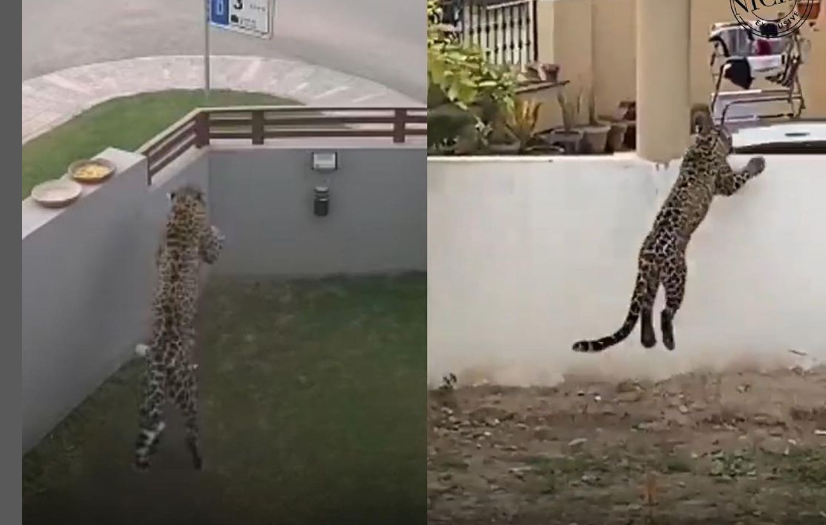 The big cat was shot with a tranquilizer, which took about 30 minutes to take action.
Two of the injured were members of Islamabad's wildlife board, and one was the society's security officer, according to sources.