First Picture of Arrested PTI Chairman Imran Khan Emerges:
Take a look at the first picture of Imran Khan, the former prime minister, who was detained by Rangers in the Al-Qadir Trust case while leaving the premises of the Islamabad High Court (IHC).
The picture shows the 70-year-old Imran Khan seated on a chair at Islamabad's Police Lines, where a temporary accountability court has been set up for his case. Imran Khan, who was ousted in the first successful no-confidence vote ever last year, spoke to the court for the first time since his arrest.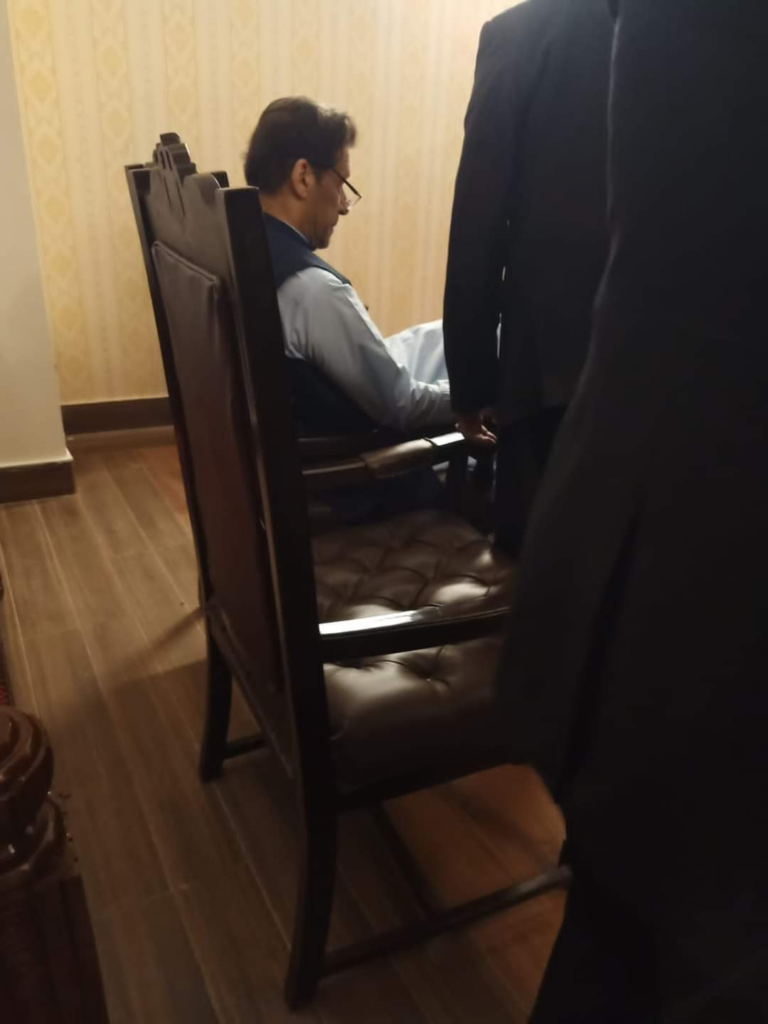 He claimed that the authorities gave him an arrest warrant after taking him to the NAB office in Rawalpindi.
The Al-Qadir Trust case
The former premier is under investigation by the NAB, along with his wife Bushra Bibi and other PTI officials, in relation to a deal that the PTI government allegedly made with a property tycoon that caused a loss of  190 million pounds.
The British National Crime Agency (NCA) supplied Rs50 billion to the government, which Khan and the other defendants are accused of adjusting.
They are also accused of receiving improper advantages in the form of over 458 kanals of land in Mouza Bakrala, Sohawa, for the construction of Al-Qadir University.
PTI Chief Imran Khan Arrested
Rangers arrested former Prime Minister Imran Khan from outside Islamabad High Court, where he had gone to seek bail in multiple FIRs registered against him in the Al-Qadir Trust case.
Also, The law enforcement agency took him into custody from the courtroom and transported him in a black Vigo.
Chief Justice of Islamabad High Court Justice Amir Farooq summoned the Inspector General of Police in Islamabad and the Additional Attorney General over the sudden arrest of PTI chairman Imran Khan.