Interview by: Haider Rifaat
Alamdar, give our readers your background.
I was born on November 3, 1983 in an armed forces family. I left my house for a boarding school in Sargodha – PAF College – at the age of 11 and have been on the go ever since.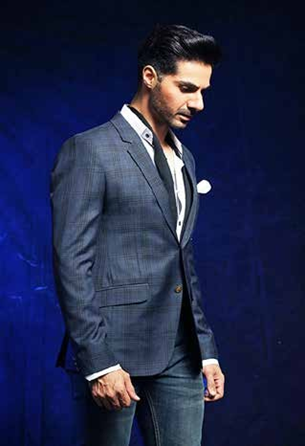 How did you begin your journey in the show business?
My teachers at the boarding school always used to tell me that I have a spark in me when it comes to singing, so that kind of got into my head. I started doing radio on FM100 back in Peshawar then after completing my Bachelors, I went to Karachi to explore the potential of hosting for channels.
I didn't know a single person in the industry back then however, after leaving multiple auditions, I managed to get myself on board for Channel G for Indus TV. I further hosted for Indus Music and MTV for a span of a year in Karachi and was offered a few dramas during that time.
of the box kind of person and believe the more challenging roles I would get, would polish my skills as an actor. I prefer sending audition tapes to different international shows (whatever I am offered via my IMDb profile through agents in the West). Most of these tapes are for Hollywood productions but you never know, someday I may make my biggest mark on the other side of the world!
With acting comes the uncertainty of what will follow once a project wraps. What is that feeling like?
The feelings are mixed. Obviously the team becomes a family to you and saying goodbye is not a nice feeling. I never feel down once a project is complete and the idea of what would follow next. I know I would get more work and recognition. I never let negativity take over. Also, I can't fully rely on acting only. I need to do other things to get my kitchen up and running.
What is your next television gig?
I just finished a serial for HUM Television called Be Adab. Besides that, I am working on an interfaith harmony web series, hoping that it would make all the difference.
What is your music style?
I love rock and pop even today and these are the best genres that can define me as a singer.
According to you, why are there fewer avenues for newbie artists to thrive in Pakistan?
It is the world of social media and to get noticed is literally just a click away. I still think one can be a famous Instagram influencer or a TikToker but for newbies, that is not it. Everyone is a star in their own field but yes, to take out time settling in Karachi, to begin with is not an option the newbies opt for. Sometimes, to get somewhere, one has to leave his or her comfort zone. Those who manage to do so, always standout.
How do want our industry to progress in terms of launching new talent?
The first step would be to have casting calls and auditions rather than promoting some relative's kid.
Who has helped you get where you are today?
I have had a lot of amazing humans who have supported me to the core. Those who believed in me and still do. They don't have to be with me to believe in me. I am sure there would be a list of people and if I start writing down their names, it would take me forever! But once again, thank you to all those who helped me become what I am today.
What other activities apart from singing and acting do you enjoy?
I learnt playing guitar a few years ago and truly enjoy playing it. I make compositions and always look for inspiration. Besides that, hitting the gym on a daily basis is something I truly cherish.
Through our magazine, what advice would you render to newcomers in the field of performing arts?
Never give up on your dreams.
More on Alamdar Khan
Two words that best define you?
Always smiling.
Nepotism is…?
Unfortunately everywhere.
Your breakthrough role?
Saif in Anaa
A sport you like?
HIIT training
Last television show you watched?
Haunting of Bly Manor
Is marriage on the cards?
You mean deck of cards?