The United States today supported Pakistan's efforts again to combat terrorism. The US secretary of state Antony Blinken says, the US condemns terrorism "in all its forms and manifestations.
Blinken stated this two days after the deadly Peshawar police lines suicide blast. More than 100 worshipers have lost their lives in the blast.
"The United States strongly condemns the January 30 bombing at a mosque in Peshawar's Police Lines district," the statement said.
"We extend our deepest condolences to the families of the many who lost their lives as a result of this senseless act of terrorism," he added.
Blinken said the attack targeted police officials and "it only compounds the tragedy" because the policemen have dedicated their careers to protecting the citizens.
Meanwhile, the death toll of the suicide blast in Police Lines mosque in Peshawar has increased to 101 on Wednesday. Till Monday night, the number of casualties stood at 44, which increased to 101 by Wednesday, according to doctors.
About 150+ people are still in the hospitals with wounds they sustained from the suicide blast during Zohr prayers in Police Lines mosque in Peshawar.
According to media reports, a suicide bomber, standing in the front row during Zohr prayers, blew himself up in the mosque on Monday at 1pm.
Roof of the mosque also collapsed on the worshipers which caused more casualties and fatalities.
Meanwhile, Caretaker Chief Minister of Khyber Pakhtunkhwa Muhammad Azam Khan has announced a day of mourning in the province on Tuesday.
He said the national flag will be at half-mast across the province.
Earlier, the death toll in the Peshawar Police Lines Mosque increased to 44 on Monday evening. The number of injured worshipers was also reported around 150.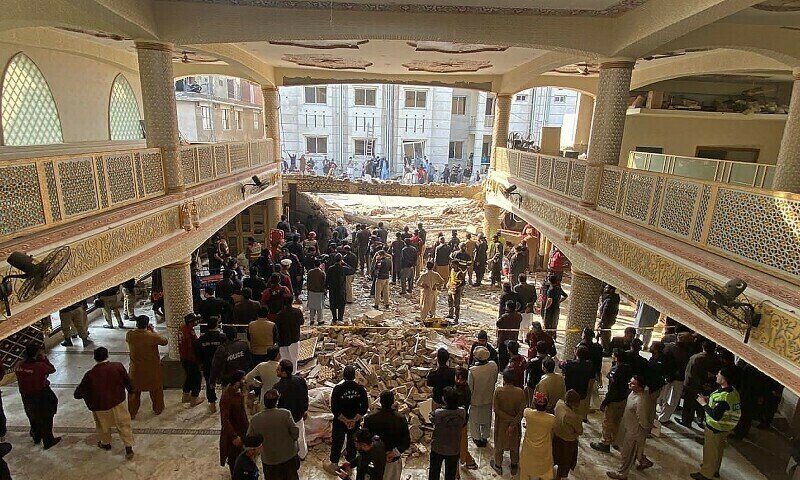 According to security officials, the suicide attacker was present in the front row during the prayers when he exploded himself, injuring dozens of faithful offering Zohr prayers.
According to media reports, Tehrik-e-Taliban Pakistan (TTP) has claimed responsibility for the most tragic suicide blast in Peshawar.
The suicide attacker was present in the front row of the mosque during the Zohr prayers. He exploded himself, killing two cops and injuring dozens of faithful offering Zohr prayers.
The injured were shifted to the Lady Reading Hospital of Peshawar.
More than 10 injured people are in critical condition, doctors said. The hospital has appealed to the citizens to donate blood for the victims.
An Eyewitness Account of blast
An eyewitness told the media that he was on his way to the mosque when the suicide blast took place.
He said, "It was a powerful explosion, and smoke engulfed the blast site." After the blast, the roof of the mosque also collapsed, he added