United States is no more superpower, says Iran
The unipolar world order no longer exists as new powers emerge the Iranian Foreign Ministry spokesman asserted on Monday, emphasizing that the U.S. government faces a smaller area of influence and diminishing strength.
Speaking with reporters, Nasser Kanaani stressed that "a unipolar world no longer exists, and the United States is no longer regarded as a superpower."
"Of certainly, the U.S. may be regarded as a power, but not as a superpower," he added.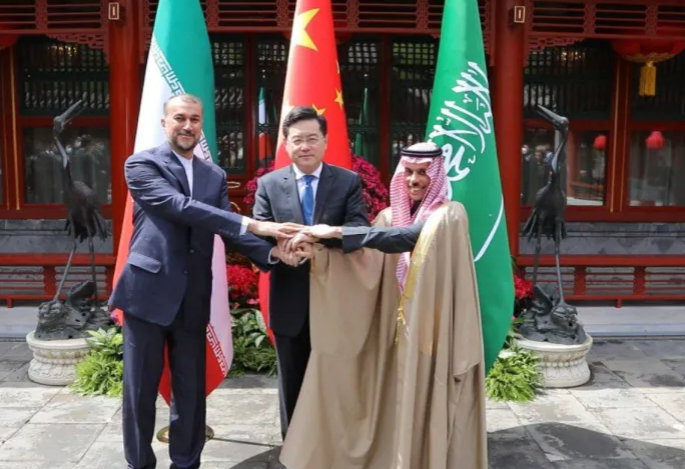 Iranian and Saudi Foreign Ministers are shaking hands during a meeting facilitated by China.
He went on to say, "In light of the Islamic Republic's capabilities, as well as the shift in the balance of power both at regional and international levels, the Iranian administration has tried to unlock all such potentials in order to secure the interests of the Iranian nation, foster regional convergence as a fairly comprehensive approach towards common interests, and help de-escalate regional conflicts."
According to Tehran Times, Iran has often stated that it would not confine its foreign policy to a single political or geographic region, he continued.
"We are going to keep building cordial ties with those nations who are prepared to take the same approach on the basis of respect for one another, reciprocity, and shared objectives."
Iran hopeful for continued productive engagement with IAEA
Kanaani also expressed Iran's desire for both the continuation and resolution of the unresolved nuclear-related issues as well as the technical collaboration between the Islamic Republic and the International Atomic Energy Agency (IAEA).
In March, IAEA Director-General Rafael Grossi paid a visit to Tehran and consequently, technical teams were exchanged and technical discussions were held within the parameters of the officially announced agreement between the two sides.
Kanaani also pointed out that "as per the agreement, conversations are still underway. It's a technical route. We anticipate that the process of cooperation between Iran and the IAEA will continue and that constructive efforts will be taken to address the unresolved technical obstacles, provided that political issues and postures do not take precedence over the technical approach."
He added that Iran has never walked away from the negotiating table and has consistently stated its readiness to reach an agreement on the easing of sanctions. Instead, Kanaani said, the West wants to start a "hybrid war" against Iran.
"Israel aims to sow unrest among regional countries"
Speaking of the diplomatic ties between Iran and its neighbor Azerbaijan, Kanaani declared that Israel is a ruthless foe of the relations between the two Muslim neighbors and is working to sow division for selfish ends.
Additionally, he stated that Iran places a strong emphasis on the idea of good neighborliness and lays a particular emphasis on friendly connections built on respect and shared interests.
'Iranian and Saudi FMs have sent invitation letters to each other'
On the March 10 agreement between Tehran and Riyadh in which they agreed to restore ties after seven years, Kanaani said Iran is a nation with a variety of capabilities and has always been a significant player in regional and global affairs because of its unquestionable significance in regional equations.
Kanaani added the foreign ministers of Iran and Saudi Arabia have already sent invitations to one another.
After the March 10 agreement, the foreign ministers of Iran and Saudi Arabia met in Beijing on April 6.
The spokesman added President Ebrahim Raisi has also accepted the Saudi king's offer, and the Saudi king has also been invited by the Iranian president.
'Tehran's position on Afghanistan is consistent'
On the issue of Afghanistan, Kanaani remarked that Iran's position on the matter is clear-cut and consistent, reiterating Tehran's support for stability and peace in Afghanistan.
He added the Islamic Republic is opposed to the presence of foreigners in the country under various pretexts.
Kanaani disagreed with Iran's dual attitude toward Afghanistan and the Taliban.
The foreign ministers of Iran, China, Russia, and Pakistan met in Afghanistan in Samarkand last week. On the sidelines of the meeting, Iranian Foreign Minister Hossein Amir Abdollahian raised the issue of Iran's water share from the Helmand River with the Taliban foreign minister. Courtesy Tehran Times