Pope Francis to lead Benedict's funeral:
Pope Francis to lead Benedict's funeral
More than 200,000 to attend lying in state
Pope Benedict XVI will be laid to rest on Thursday, after an unprecedented funeral that will be presided over by his successor, Pope Francis. For the first time in centuries, a sitting pontiff will preside over his predecessor's funeral.
Francis will celebrate the Mass in St. Peter's Square before his German-born predecessor is buried in the papal tombs beneath St. Peter's Basilica.
Pope Emeritus Benedict XVI died in Rome on the New Yea's Eve At The Age Of 95. Pope Benedict was the first Roman Catholic pope in 600 years to leave his post before dying.
Benedict, the former Cardinal Joseph Ratzinger, became the first German pope in centuries when he was elected in 2005.
In 2013, he became the first pontiff in six centuries to resign, citing his frail health. His eight-year tenure was marred by the fallout from the global sex abuse scandal that has rocked the Catholic Church.
What will happen at the funeral?
According to the Vatican, Benedict had requested a comparatively modest ceremony. Though several papal traditions will still be upheld such as a three-coffin burial.
After lying in state in St. Peter's Basilica, his body was moved into a cypress coffin, to prepare him for the funeral. The event is expected to be attended by around 100,000 people. The heads of state and government, European royals and 3,700 members of the clergy are to attend the funeral.
The body will then be carried to St. Peter's Square where Pope Francis will say a Mass with readings in several languages.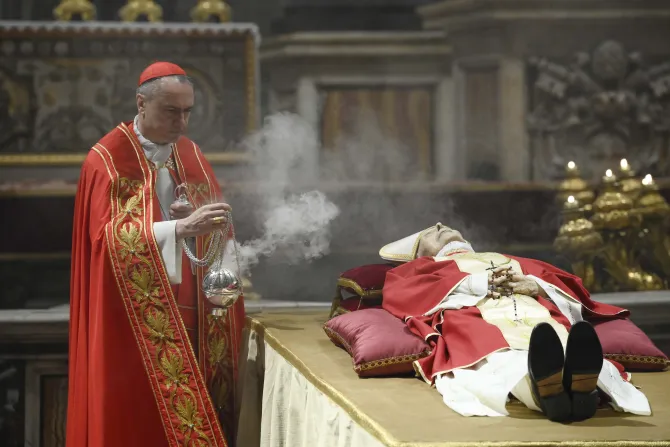 A written account of his time as pope in a metal cylinder and coins minted at the Vatican during his tenure will be placed with the body.
After the funeral, the body will be returned to the basilica for a private ceremony and the coffin will be encased in another made of zinc and then a larger one made of wood.
Benedict will be interred in the Vatican Grottoes, a site underneath St. Peter's Basilica that houses some 90 deceased popes. These included the remains of his predecessor, Pope John Paul II, until his tomb was moved into the main part of the basilica after he was beatified, or turned into a saint by the Church. Benedict's coffin will be placed in John Paul II's old position.
Benedict's body laid in state prior to funeral
The body of the former pope has laid in state for three days.
People began gathering outside the basilica at dawn on Monday before the doors opened. Thousands were allowed to view the body and pay their respects for several hours.
Benedict's funeral will be marked in his home country with church bells ringing at 1000 GMT/UTC.