Viral on Social Media
ISLAMABAD: A picture of the new chief justice of Pakistan and his wife went viral on social media on Monday morning.
In this picture, Justice Qazi Faez Isa is taking oath as the new chief justice of Pakistan on Sunday while his wife Sarina Isa is standing close to him.
Why is this picture going viral? The social media users are talking about the judicial couple (Qazi Faez Isa and his wife Sarina Isa) who are standing on the dais for oath-taking in a prestigious manner and with dignity.
However, a few judges of the Supreme Court, who humiliated them in a reference a year ago, were sitting in front of them.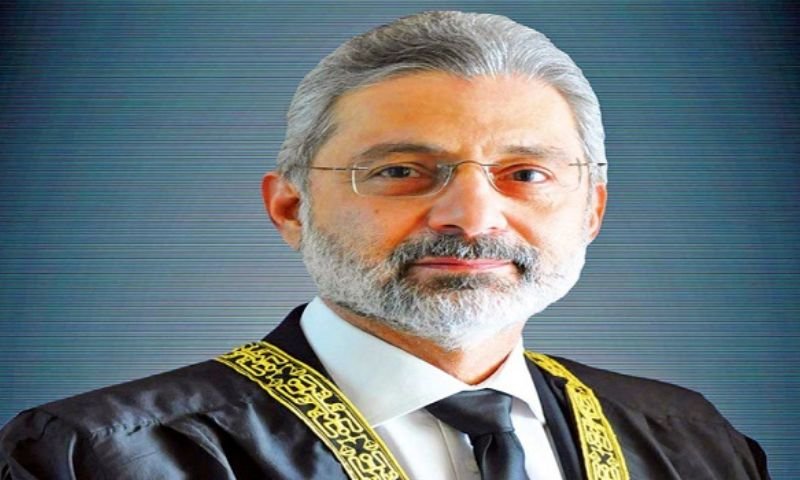 A file photo of Qazi Faez Isa. A picture of of Justice Isa and his wife has gone viral on social media on Monday.
And those moments must be agonizing for those who intentionally insulted Justice Isa and his wife and embarrassed them as much as they could do at that time.
History repeats itself and it became true on Sunday when Qazi Faez Isa became the chief justice while a group of Bandial-led judges watched the elevation of Qazi. They will keep on watching him (CJP) till his retirement.
Meanwhile, on Monday morning, the newly-appointed chief justice of Pakistan Qazi Faez Isa created a history by allowing live coverage of the Full Court hearing of the petitions challenging the clipping of the CJP's powers through the Supreme Court (Practice and Procedure) Act 2023.
During a previous hearing in June, discussions revolved around the similarities between the Supreme Court (Review of Judgments and Orders) Act 2023, which relates to the right of appeal in suo motu cases, and the SC Practice and Procedure Act. Attorney General for Pakistan (AGP) Mansoor Usman Awan suggested that parliament could explore ways to harmonize the two laws. The then-CJP, while welcoming the proposal, stressed that the federal government should take the Supreme Court's perspective into account when legislating on matters related to the judiciary.