Zarnish Khan, the talented and popular Pakistani actress, has been in a number of well-known television programs.
Zarnish made her acting debut in the drama series "Aye Zindagi," which aired in 2012. She has subsequently been in other popular dramas, including "Susraal Mera," "Sehra Main Safar," "Laaj," "Sun Yaara," and "Deewangi."
she is a successful model who has appeared in many photo shoots and fashion shows in addition to her acting career.
Zarnish Likely to Quit Showbiz
Zarnish Khan has made a major change to her social media profile by removing the majority of her Instagram photos.
she was seen performing the Umrah in Makkah and posted photos of the moment.
Zarnish Khan also discussed her Umrah journey and the joy she had while in Saudi Arabia. Via posts and Instagram stories about her pilgrimage.
The actress praised Allah Ta'ala and showed her thanks.
In her Instagram post, She Said:
"Allah Talla ka jitna shukar ada karoon kam hai. Sirf sunna tha ab dekh ke mehsoos bhi ker lya ke waqai, aaisa manzar dunya main hai hi nai."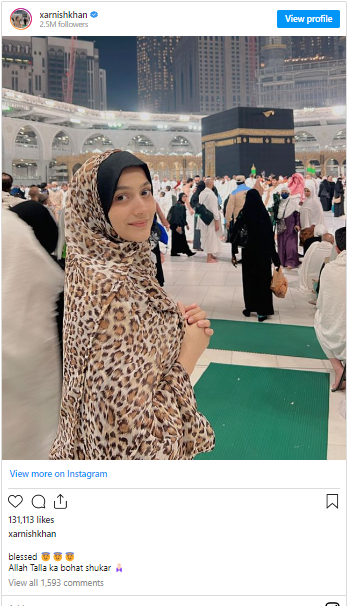 Some have speculated that Zarnish Khan's decision to delete her photos was motivated by her newly acquired spiritual perspective.
Umrah is a tremendously spiritual and personalised experience, and it is common for people to drastically change their lives following the pilgrimage.
Others think that the actress may be leaving the entertainment industry entirely.
It's unclear why Zarnish Khan decided to delete her Instagram photos because she hasn't spoken anything about it.
Despite her intentions, Zarnish Khan's decision to perform Umrah and change her social media profile has piqued the curiosity of her lovers and followers.
In the comments section, social media users and celebrities like Imran Abbas, Omer Shahzad, and Sami Khan have sent their good wishes for actress Zarnish Khan.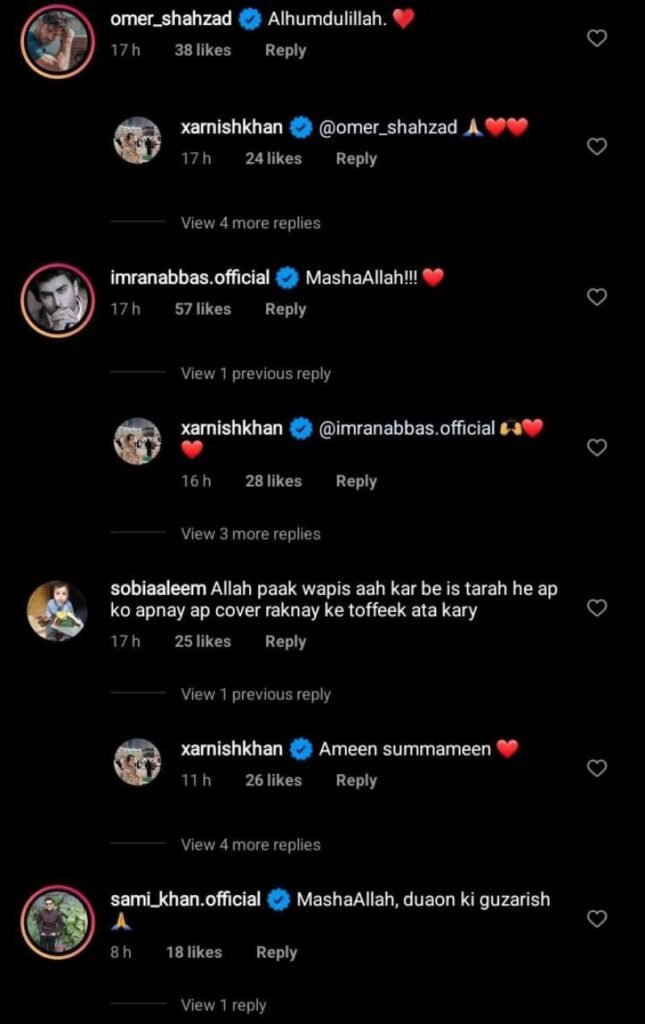 Read More: Muneeb Butt, Aiman's House Partially Destroyed After Gas Explosion