Hira Khan is a diva who has made it clear that she enjoys being very filmy.
Her whole proposal revolved around that, and it appears that her husband Arslan Khan is doing the same.
Despite his lack of dancing ability, he planned a dance performance for his wife, and after a month of covert rehearsals, Arslan appeared to have nailed it.
Arslan posted a video of himself dancing on social media.
In the caption, he wrote a heartfelt statement:
Hira has always been very filmy ever since she was born. Everything that we have been through together, she has been my partner through thick and thin. She wanted me to do a 'surprise dance' for her and honestly, me being someone who was not just bad at dancing but had extreme stage fright too – I wanted her to remember this for the rest of our lives.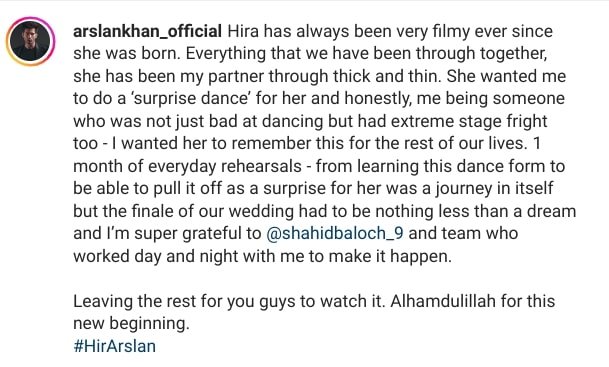 He went on to say that his dancing routine took a month of continuous practise.
Arslan Khan further Stated:
"From learning this dance form to be able to pull it off as a surprise for her was a journey in itself but the finale of our wedding had to be nothing less than a dream".
Arslan Khan also thanked his choreographer Shahid Baloch and his team for their help in creating this choreographed dance. 
Have a Look at the Video:
Earlier,
Hira Khan, the stunning and gifted rising actress, made us all melt with her sweetest-ever marriage proposal to the love of her life, Arslan Khan. 
She broke the stereotype that guys can only propose.
She meticulously arranged a romantic proposal with dances, confession speeches, bouquets, and ring exchanges with her friends and family.
Have a Look at Hira Khan's Proposal Video:
Also Read,
Akshay Kumar Pens A Heartfelt Note For Tiger Shroff