Jannat Mirza, a well-known TikToker from Pakistan, made the decision to end her relationship with her boyfriend Umer Butt.
The TikToker revealed her current relationship status in her Instagram stories.
"I'm not in a relationship anymore, I'm single," she wrote.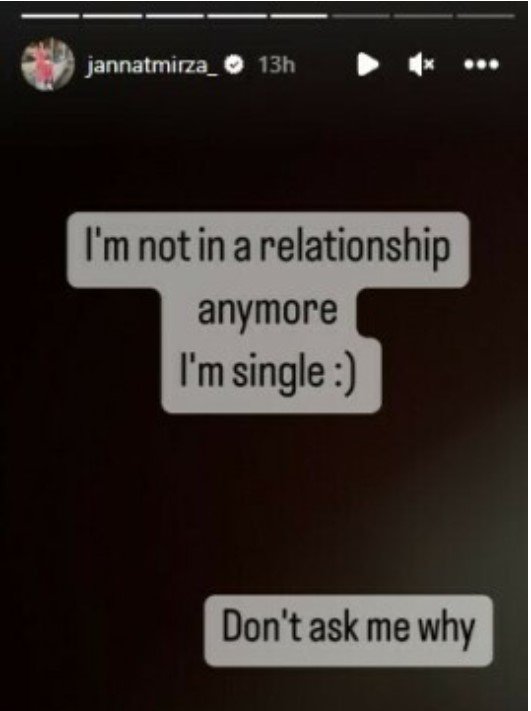 Mirza also advised her fans not to question her about why she ended the relationship.
She has not, however, removed any pictures or videos of Umer Butt.
Jannat Mirza is Pakistan's most popular TikTok star, with over 20 million followers and 585 million likes.
She recently appeared in Tere Bajre Di Rakhi, a Punjabi-language film, alongside famous Pakistani actor Saima Noor.
Syed Noor directed and wrote the film, which was released in theatres nationwide on May 3 of this year.
In October, Jannat Mirza, a Pakistani TikTok star, delighted her millions of fans with the news of her 'Baat Pakki' with fellow TikToker Umar Butt.
Mirza, the most followed Pakistani celebrity on TikTok with over 15 million followers, confirmed the news of her 'Baat Pakki' in an interview with a private news agency.
She confirmed her 'Baat Pakki' with Umar just days after news of their engagement surfaced.