ISLAMABAD: Higher exchange rates resulted in extensive dollar selling, particularly from exporters, which allowed the rupee to gain Rs 9.24 against the dollar over the past 11 days.
The US dollar reached an all-time high against the rupee on February 3 at Rs276.58 in inter-bank trading. This was primarily owing to the volatility in exchange rates brought on by the government's decision to lift artificial control on the exchange parity to meet IMF demand. This situation created a grey market and gave speculators a lot of room for manipulation and profit-making.
However, the decapping of rates in the final week of January not only reduced the uncertainty surrounding exchange rates but also significantly increased the number of dollars available in both interbank and open markets, strengthening the local currency.
Rupee gains 3.4pc
After reaching a record low of Rs276.58, the rupee rebounded 3.34 percent or Rs9.24. According to a report from the State Bank on Tuesday, the dollar dropped by Rs2.10 to close at Rs267.34 from Rs269.44.
Interbank currency dealer Atif Ahmed stated that "the decline in dollar rates is attributable to increasing inflows despite no encouraging comments from the International Monetary Fund."
The currency market participants are hopeful that the IMF will soon achieve a solution, paving the way for the release of a $1.2 billion tranche as well as opening up inflows from other multilateral lenders and friendly nations, despite the fact that the 10-day talks with the Fund were inconclusive.
The exchange rate appears to have stabilized at Rs270, yet the majority of experts and analysts think that the country has not completely averted a default risk. The dollar-rupee exchange rate has been fluctuating slightly after decapping, although it generally stays in this range.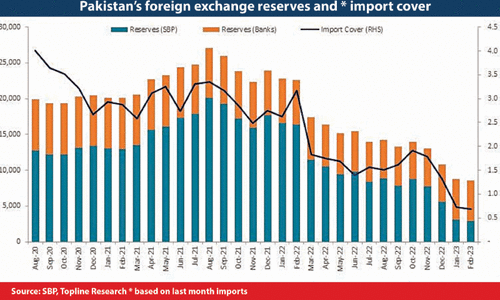 Bankers claimed that while importers face a double issue of increasing import costs and limitations on issuing letters of credit, exporters find the current exchange rate ideal for selling their dollar assets.
Read more: Pakistan Returns MEFP Draft To IMF
The rupee recovered on February 1 after two months of losses, gaining 0.65 percent in the interbank market to settle at 267.89 against the dollar. The local currency's first barrier to a decline in open market rates was this one.
The dollar traded at Rs268 and Rs271, buying and selling, on Tuesday after reaching a recent high of Rs283 on the kerb market. The collapse of the grey (black) market, where rates were greater than those found in open marketplaces and banks, was more promising for Pakistan. Additionally, it assisted in reducing money smuggling from Pakistan to Afghanistan.