ISLAMABAD: In a bid to meet another major demand of the IMF, the coalition government today introduced fresh taxation measures to generate more tax revenue.
The Federal Board of Revenue (FBR) has issued a notification to increase tax rate in cigarettes and luxury items to meet another condition of the IMF.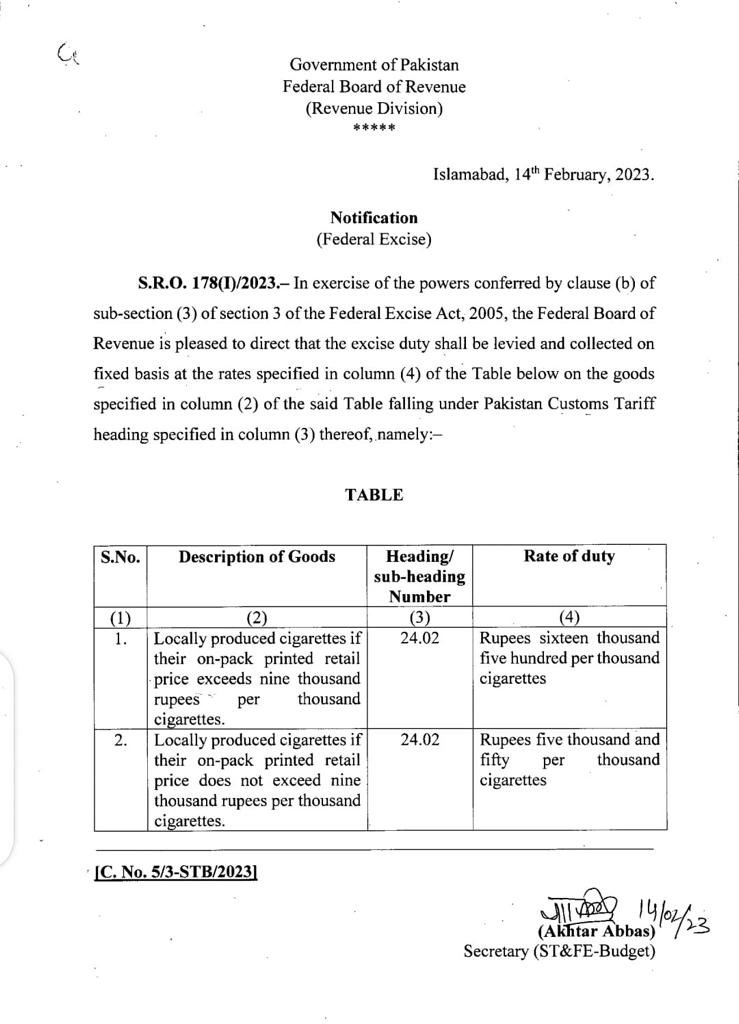 The cabinet met on Tuesday evening and decided to impose Rs115 billion in taxes through an SRO by the FBR.
Also, the remaining taxation measures would be incorporated through a mini-budget being presented before the Parliament on Wednesday.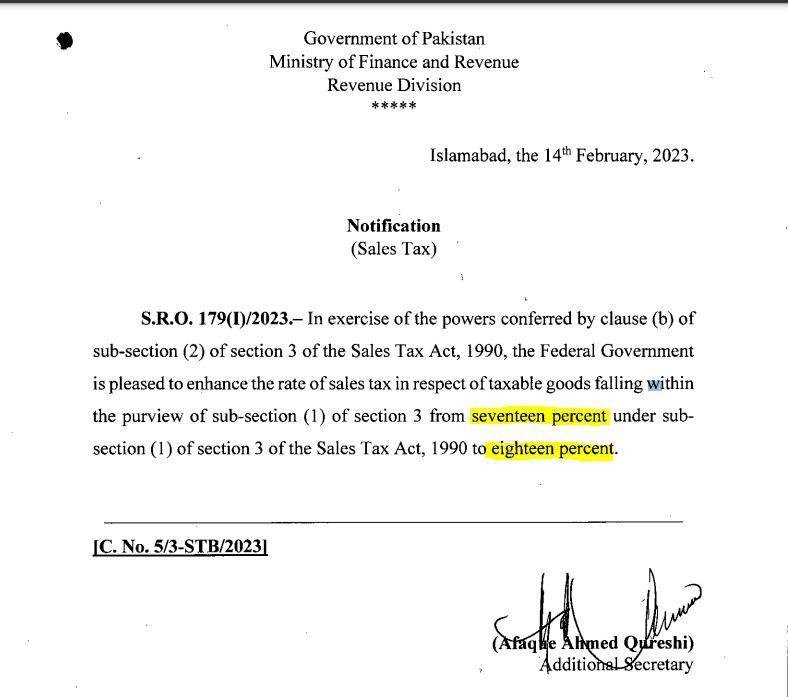 The FBR issued the Statutory Regulatory Order (SRO) to enhance GST rate from standard 17 to 18% and increasing the Federal Excise Duty (FED) on cigarettes.
This will fetch an additional Rs115 billion out of Rs170 billion agreed to by the government in line with the IMF conditions.
Meanwhile, the government also okayed the increase in GST to 25 per cent on hundreds of high-end luxury items through the Tax Amendment Bill 2023 to be presented in the parliament today (Feb 15).
Earlier, President of Pakistan Dr. Arif Alvi asked the finance minister Senator Ishaq Dar to take the mini-budget to parliament instead of seeking a Presidential Ordinance.
According to the President of Pakistan's Twitter account, Dr. Alvi suggested this when finance minister Ishaq Dar met him on Tuesday evening to discuss the imposition of a mini-budget through the Presidential Ordinance.
President Alvi said that Pakistan would support the implementation of the commitments made with the IMF.
He, however, asked Dar to take the mini-budget matter to the National Assembly saying that Parliament should be taken into confidence on this very important issue.
Finance Minister Ishaq Dar met Dr. Alvi at the Presidency and informed him about the government's strategy to enforce the mini-budget through an ordinance.
After the objection of the President, a team of government is considering a strategy regarding the implementation of the mini-budget.
The government is again expected to approach the President of Pakistan after approval of the mini-budget from the cabinet.
The economic team of the government has informed the IMF during virtual discussions that the federal cabinet will approve the mini-budget on Tuesday.