ISLAMABAD: The Economic Coordination Committee of the Cabinet (ECC) is holding a meeting today afternoon to increase gas prices to meet another major requirement of the International Monetary Fund.
Finance Minister Senator Muhammad Ishaq Dar will chair the ECC meeting. Some federal ministers, secretaries, and other officials working with the economic ministries/departments will attend the ECC meeting.
The IMF has demanded a significant increase in the gas tariff to cover the gas losses and reduce gas sector circular debt.
ECC meeting to consider a hike in gas tariff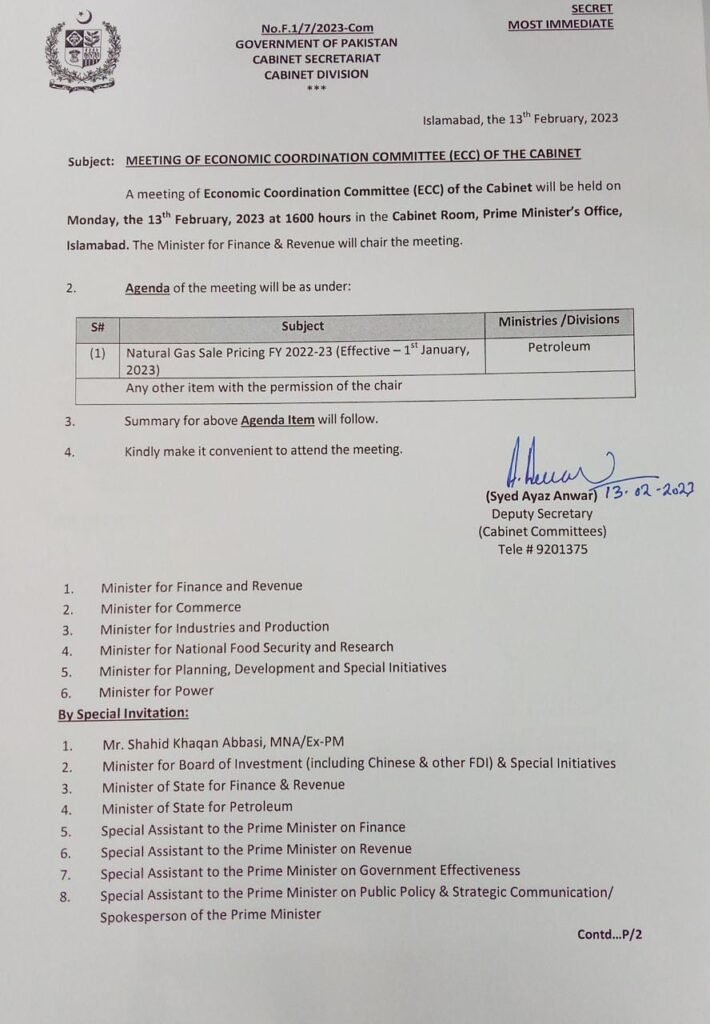 Earlier, the federal cabinet approved a plan to raise the power rate and eliminate subsidies ahead of virtual negotiations with the International Monetary Fund (IMF) on the Memorandum of Economic and Financial Policies(MEFP), which begin today.
The cabinet also approved a new circular debt management plan through circulation.
Last week, a team from the Washington-based lender wrapped up policy-level negotiations. However, the parties could not reach an agreement due to disagreements on fiscal actions. While the agreement had to be completed before the staff-level agreement.
cabinet approves power tariff Hike
The government will increase power costs by Rs7.91 per unit in four quarterly adjustments. Four quarters are; February and March 2023, March and May 2023, June and August, and September and November, according to the proposal approved by the cabinet yesterday and to be presented to the IMF.
According to the plan, from now on, the government will charge Rs3.21 per unit, Rs0.69 from March to May, and an additional Rs1.64 per unit from June to August 2023. The government would increase the cost of electricity by Rs1.98 per unit from September to November.
The consumer base rate will rise from Rs15.28 per unit in June 2022 to Rs23.39 per unit through June 2023.
Read more: Cabinet Approves Power Tariff Rise, Ends Subsidies Today
In addition, the government has agreed to terminate the Rs65 billion electricity subsidy offered to exporters in March 2023.
The government will be able to recover Rs. 51 billion from the termination of the electricity subsidy for exporters, and Rs. 14 billion from the termination of the electricity subsidy under the Kissan Package as of March 2023. The electricity subsidy of Rs12.13 per unit will be refunded to the export sector.
Virtual Meeting
The Pakistani Government has received the IMF's Proposed Menu, but there are still open questions regarding the precise taxation measures, the raising of the energy base rate, and obtaining assurances for Gross External Finance.
The MEFP's suggested menu has been the subject of ongoing discussion among Islamabad's policymakers for the past two days.