WASHINGTON: In response to the devastating floods that struck Pakistan last year, killing 1,739 people and affecting 33 million, the US has announced an additional USD 100 million for recovery and reconstruction efforts.
At a news conference on Monday, State Department spokesperson Ned Price told reporters that humanitarian aid will be included in the funding to support flood relief and recovery efforts in refugee-hosting areas.
He stated:
"I am pleased to share that today the United States announced an additional USD 100 million of recovery and reconstruction funding, bringing our total contribution to over USD 200 million."
The additional USD 100 million will be used for infrastructure reconstruction, disease surveillance, economic growth, clean energy, climate-smart agriculture, and food security, in addition to flood protection and governance, according to Price.
According to the spokesperson, the US assistance for flood victims is part of broader efforts to establish a US-Pakistan green alliance that will investigate a variety of climate and resilience issues critical to Pakistan's reconstruction.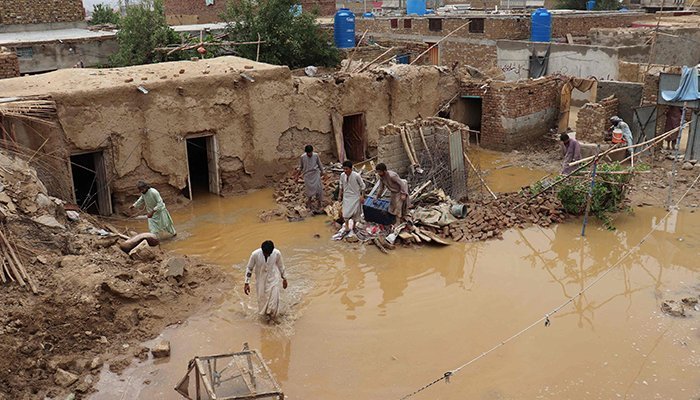 Price said:
"Pakistan's recovery and reconstruction will be a continuing process in the months and years ahead and we will continue to support Pakistan in its efforts to build a more climate-resilient future for its people."
In his speech at the opening session of the "International Conference on Climate Resilient Pakistan" in Geneva, Pakistan's Prime Minister Shehbaz Sharif stated that the country would require a minimum of USD 16.3 billion over the next three years to bridge funding needs. Foreign aid is expected to cover half of this amount.
Earlier,
Pakistan secured aid commitments of about $8.5 billion at Geneva's conference.
In a tweet, Federal Minister for Information Marriyum Aurangzeb said that Pakistan has received $8.57 billion in flood aid at the International Conference on Climate Resilient Pakistan in Geneva, Switzerland on Monday.
She further said that the Asian Development Bank will provide $1.5 billion, China announced $100 million, European Union pledged $93 million, Germany $88 million, Japan $77 million and France announced $10 million aid for Pakistan at the Geneva conference on Monday.
She said that Prime Minister Shehbaz Sharif had launched an $8 billion flood aid appeal at the Geneva moot.
However, the donor's commitments exceeded the expectations of Prime Minister Shehbaz Sharif, she added.
The recent floods wreaked havoc in the country, killing at least 1,700 people and causing $16 billion worth of losses to the infrastructure and the agriculture sector.