The Punjab police filed a complaint against PTI leader Farrukh Habib and a few party members on Thursday night in order to release Fawad Chaudhry and clear their identities of robbery claims.
The FIR was filed at the Ferozewala police station in Sheikhupura in response to a complaint made by Islamabad police official Adeel Shaukat, in accordance with Sections 148, 149, 186, 225, 341, 353, and 395 of the Pakistan Penal Code.
Mr. Habib and other armed suspects, according to the report, attacked police officers when they were carrying PTI leader Fawad Chaudhry to Islamabad near Kala Shah Kaku.
Mr. Habib allegedly broke the law by "interfering in official issues" and "tearing police officers' clothes."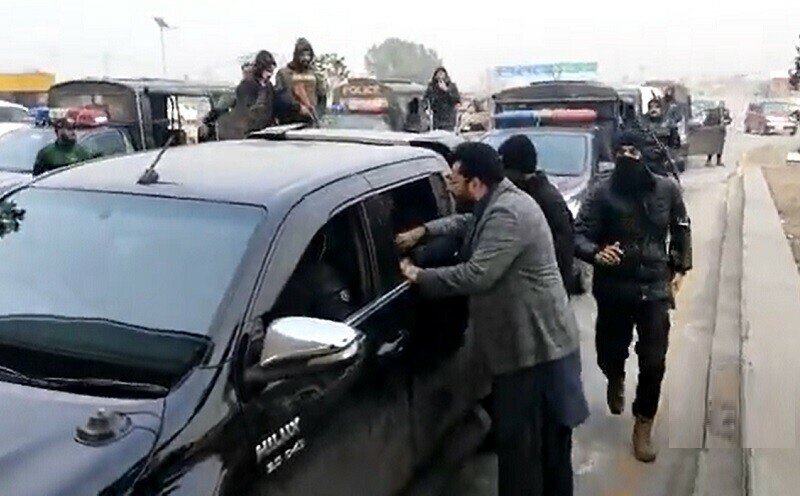 He said that the PTI leader and his associates tried to seize government cars and weaponry.
Farrukh Habib is seen fighting with law enforcement trucks bringing Fawad Ch to Islamabad in the footage.
Earlier,
PTI leader Fawad Chaudhry was taken into an Islamabad district and sessions court on Friday after his two-day detention with the police was completed.
On Wednesday night, an Islamabad district court issued a two-day physical remand to the head of the Pakistan Tehreek-e-Insaf (PTI), Fawad Chaudhry.
After apprehending Fawad Chaudhry in Lahore early Wednesday, police hauled him before Islamabad District Court's on-duty magistrate Naveed Khan.
Fawad was allegedly detained at the Kohsar police station on Tuesday night for allegedly threatening the Election Commission of Pakistan (ECP) members and their families.
When Fawad was taken before the court on Wednesday, the police demanded an eight-day physical remand.
The court, which had initially reserved its decision, denied the police's pleas and instead imposed a two-day physical remand on the PTI leader.
As the court gave the reserved ruling, Fawad Chaudhry received a medical test at the Pakistan Institute of Medical Sciences (PIMS), where specialists certified him healthy.