Maryam Nawaz Sharif's son Junaid Safdar is on his way to Pakistan to permanently resettle and is expected to support his mother following her promotion to senior vice president and chief organiser of the PML-N.
According to sources:
Maryam Nawaz will arrive in Pakistan in about two weeks to focus on politics, and her son Junaid Safdar and his wife Ayesha Saif will arrive on Friday from Doha.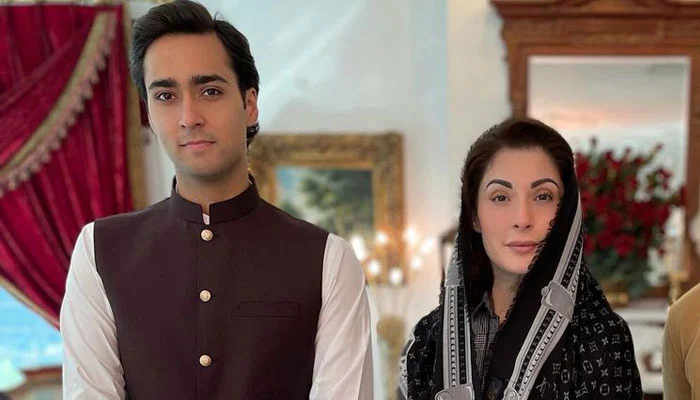 Nawaz Sharif, Maryam Reach Geneva Ahead Of UN Fund-Raising For Pakistan
Prior to the start of the UN's fund-raising moot for Pakistan, PML-N supremo Nawaz Sharif and his daughter Maryam Nawaz, who has been promoted to Senior Vice-President of the party, have arrived in Geneva, Switzerland, after a week-long trip.
Both of the top PML-N officials will spend one week in Geneva. On a Swiss flight, both leaders left Heathrow airport on Wednesday. There are two additional family members with them.
On January 9, 2023, in Geneva, the UN will co-host an international conference on Pakistan's ability to adapt to climate change.
Along with UN Secretary-General Antonio Guterres, and PM, Shehbaz Sharif is also scheduled to attend the Geneva meeting.
This conference has been organised by the UN at Pakistan's request to rally support for those affected by the floods in Pakistan.
Maryam Nawaz appointed Senior Vice-President Of PML-N To Reorganize Party
Mian Shehbaz Sharif has appointed Maryam Nawaz as senior vice-president of PML(N).
Premier Shehbaz Sharif also holds the portfolio of President of the Pakistan Muslim League-Nawaz.
Information Minister Marriyum Aurangzeb today shared this information through a notification on her Twitter handle.
She said that the elevation of Maryam Nawaz as SVP from the earlier position of vice president is part of the major administrative changes in the party.
"Pursuant to the powers conferred under the Constitution of Pakistan Muslim League -N, the undersigned is pleased to appoint Ms. Maryam Nawaz Sharif as  Senior Vice President" with immediate effect," the notification reads.
"She is hereby authorized to re-organize the party at all functional tiers/levels as "Chief Organizer," it added.
Before this development, it was a talk of the town that Maryam Nawaz will be given the responsibility to head the PML(N).
However, this development did not surface yet and PML(N) President and Prime Minister Shehbaz Sharif have elevated Maryam Nawaz to the party's post of senior vice-president.