LAHORE/ISLAMABAD: Pakistan will produce more than 4.6 million bales of cotton in 2022, compared to more than 7.3 million bales the previous year, resulting in a 37.23% deficit.
According to market observers:
The main cause of the cotton yield decline was heavy monsoon rains and river floods.
They have washed away standing crops, particularly in the cotton belts of Sindh and Punjab.
Cotton sowing was also unattainable for both provinces this season.
As only 2.01 million hectares of the 2.53 million hectare target were planted.
According to data released on Tuesday by the Pakistan Cotton Ginners Association (PCGA):
4,612,687 cotton bales arrived by January 1, 2023, down from 7,312,537 bales on January 1, 2022.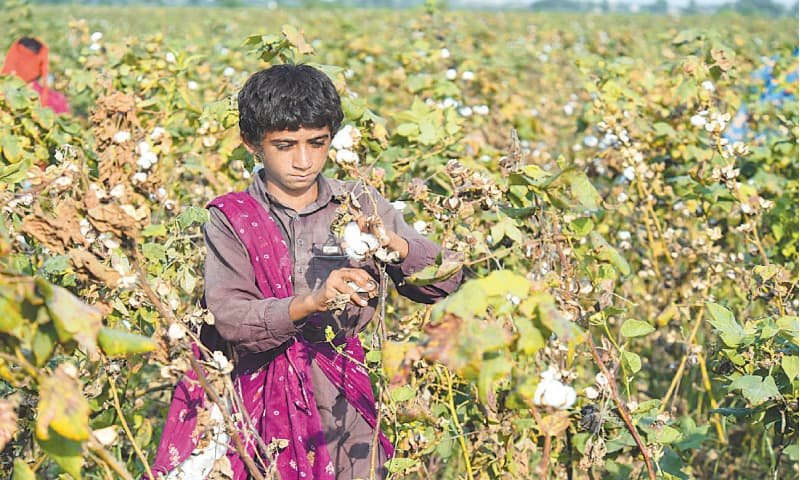 The industry's estimate of 4.8 million bales for white lint output was exceeded by 0.2 million bales.
Sindh received 1,850,400 bales of cotton this year, compared to 3,508,602 bales last year, representing a 47% decrease. Punjab harvested 2,762,287 bales this year, compared to 3,838,808 bales last year, a 28% decrease in output.
According to APTMA, the country will need to import more than 9.4 million cotton bales to meet the domestic textile industry's demand of 14 million bales (Aptma).
However, the foreign exchange reserves are in such jeopardy that not even the pharmaceutical sector is opening letters of credit (LCs).
Aptma leaders warned the prime minister in a letter on December 23 that the textile industry was already operating at less than 50pc of its installed capacity, and that many workers had already been laid off.
And that many more would do so if immediate action to keep the textile units operating was not taken.
They attributed the decline in textile exports to a lack of lint, a liquidity crisis, and a lack of energy.
Aptma is already in contact with countries such as the United States, China, Brazil, and Turkey.
They have developed new cotton varieties with higher yields in order to improve local cotton seeds.
As they are concerned about declining local cotton production. It is also establishing a "cotton secretariat" to focus solely on the crop.