SWAT: The members of Pashtun Tahaffuz Movement (PTM) staged rallies in different districts of Khyber Pakhtunkhwa (KP) against the acquittal of Rao Anwar in Naqeebullah Mehsud murder case. The acquitted is the former SSP of Malir district.
A demonstration was held outside press club in Swat. The demonstration led by president of PTM local chapter Mir Inam Khan was addressed by Waqif Khan, Aftab Khan, Abid Jan, Samiul Haq, Dr Khalid Mehmood and Advocate Ataullah Jan.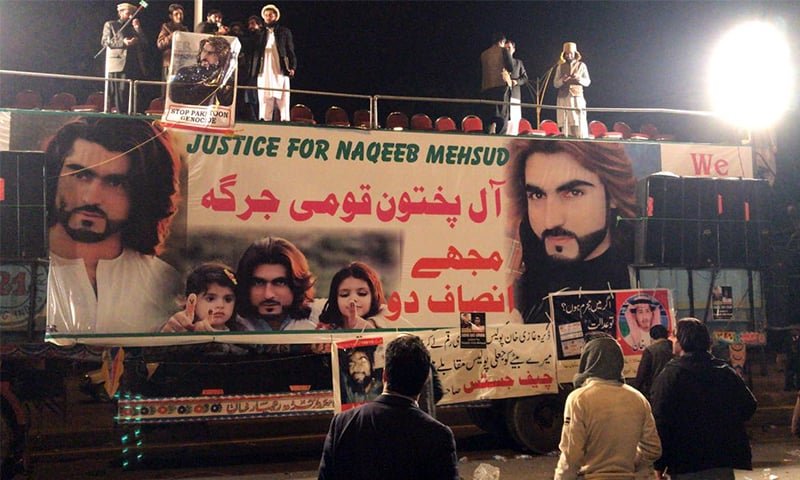 The protesters were holding placards and banners inscribed with slogans against the release of Rawo Anwar and 17 other suspects in the Naqeebullah Mehsud murder case.
The Protest
The speakers protested that Naqeebullah Mehsud was murdered brutally. They said "We are not against the state, but against the wrong decision of the state institutions. We will not tolerate such injustice and wrong decision by any court".
They alleged that Pakhtuns are oppressed and treated unjustly everywhere in the country. They asked "We do not know as to why illegal treatment is meted out to Pakhtuns, why we are targeted and what's our sin."
"These days, Pakhtuns are being oppressed and abused everywhere in the country, which is not acceptable to us at all," they added.
They threatened to launch a country-wide protest movement if injustices with Pakhtuns were not stopped. They said that the killers of Naqeebullah Mehsud should be punished according to law.
The speakers said that Pakhtuns rendered sacrifices for the protection of Pakistan and restoration of peace in the country. However, they alleged that in return, they got nothing but injustice and atrocities.
Demonstration in Swabi
A protest demonstration also staged in Shewa Adda. Led by PTM district president Liaquat Yousafzai, the protesters chanted slogans against the acquittal of Rao Anwar.
They claimed that the joint investigation team's report clearly indict Anwar in the brutal killing of Naqeebullah. Yousafzai said had JIT report enforced in letter and spirit, Roa Anwar would have never been acquitted.
Demonstration in DI Khan
Protest demonstration at Topanwala Chowk in Dera Ismail Khan lead by PTM leader PTM leader Alamzeb Mehsud, the protest affected the flow of traffic and long queue of vehicles were seen from State Life Building to GPO Chowk.
Speaking on the occasion, Alamzeb Mehsud said that Pakhtuns did not forgive murder of a relative at any cost. He said that court should provide justice to the heirs of Naqeebullah.
Holding placards, the protesters chanted slogans against militancy and acquittal of Rao Anwar. They said that the killers of Naqeebullah should be awarded punishment.
'The Killer of Naqibullah Now a Free Man'
Earlier on the day of Rao Anwar's acquittal, the PTM Chief Manzoor Pashteen had called upon world to protest on the release of a murderer who himself had admitted to the crime. He lamented that the killer is now a free man.
Pashteen also shared the photo of the Naqeebullah's father, who died of cancer awaiting justice.