With the COVID-19 global pandemic wreaking economic havoc around the world, Pakistan's economy is said to have taken less of a pummelling than most. On the other hand, the COVID-19 emergency found the Pakistani economy in a fairly bad shape – which makes recovery more challenging by that much.
The Truth International (TTI) sat down with Dr. Vaqar Masood, the Special Advisor to the Prime Minister on Revenue, for his take on the situation and direction of the economy.
TTI: What evils have we visited upon our economy for it to reach the state it is currently in?
VM: The truth is that this government inherited high deficits of current account and fiscal balance. Initially, the government took time to decide which delayed the crucial decision-making process. Once we embarked on the reformative and stabilization path, the outcome was quite good. The level of revenue was rising, the current account deficit fell, and a boost was observed in remittances.
We were on course to post growth when COVID struck our economy. While we were fortunate not to have faced the full brunt of the pandemic, it was still quite burdensome. But we tried our best to reach the needy through the Ehsaas program. We expected things to return to normal after July, but then the second wave came up.
Now, even though the situation looks challenging, but we have improved on all accounts. Perhaps the least effective has been the [government's] control on food prices. Since farm prices are based on a demand-supply mechanism, supply distortions introduced by unexpected rains caused prices to soar and our calculations proved wrong.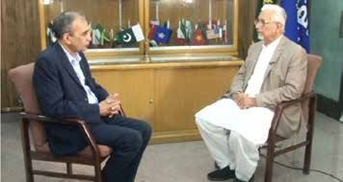 TTI: How much of the current inflation can be attributed to poor governance?
VM: While we can complain about governance, it is pertinent to note that we learned from our mistakes quickly. Therefore, the prices of both sugar and wheat have come down. The crops for potatoes, onions, and tomatoes saw partial harvest failures but fresh supplies are now coming in from KP and Balochistan. In contrast to international prices, Pakistan has been successful in curbing the sudden increase seen early on.
TTI: How important is it to revive the IMF programme and where do we stand vis-à-vis the IMF concerning its revival?
VM: The programme was halted due to COVID-19 but let's appreciate how much the IMF helped Pakistan during this pandemic, specifically with regard to its Rapid Finance Instrument of $1.4 billion as well as the leverage provided on account of the ongoing programme. There is news circulating regarding their mission coming next week, of which their meeting may be virtual, but the final dates are yet to be announced.
TTI: What leniencies will you be requesting regarding the IMF programme conditions?
VM: Rather than focus on conditionalities, I would like to argue based on the global economic havoc wreaked by the pandemic. The annual meetings of World Bank and the IMF have already emphasised the need to maintain demand to ensure that economic activity does not dissipate. We will be asking for leverage to stabilize the economy. Due to COVID-19, we had to make hard decisions and some strict measures which will hamper daily life and subsequently, economy. We are ready for reforms but at our own pace.
TTI: Do you think FBR's current targets are realistic?
VM: When we were setting these targets, we assumed COVID-19 was on its way out, allowing for a return to normal social and economic activity. Because of the second wave of the pandemic, we have to deal with unforeseen sluggishness and inflation, because of which our targets now appear to be unrealistic.
TTI: Are any FBR reforms on the agenda?
VM: Currently, Pakistan's federal revenue is 9.3 percent of the national GDP. Provincial revenue rises slightly to 11 percent. We are currently concerned with raising it to 18 percent, even though a report from the World Bank says that Pakistan can raise to approximately 26 percent of GDP from revenues. We are building a database of information and allowing people to disclose information on their incomes and assets. We are working in close collaboration with the relevant stakeholder and are signing MoUs with several key organizations. Technological advances, the pressure of FATF, and the elimination of Benami all lead to the creation of an environment in which concealment of assets and incomes becomes unfeasible and tax fraud becomes impossible.
TTI: Doubts have been cast on the government's political will to move forward with reform. How do you comment on that?
VM: From what I have heard, even Shabbar Zaidi admits he had full confidence in the Prime Minister and faced no obstacles. Initially, I was wary of assuming this responsibility, but I agreed on the Prime Minister's insistence, and have only received trust and complete support on all accounts.