A stalwart advocate of democracy in Africa, the head of Djibouti's National Parliament Muhammad Ali Houmed recently visited Islamabad heading a 12-member Union delegation. The visit came on the invitation of Chairman Senate Sadiq Sanjrani, and involved wide-ranging talks with the top Pakistani government, parliamentary, and military leadership.
The Truth International had a conversation with the esteemed leader. Here is a transcript of the conversation.
TTI: How are the working relations between the President and the Parliament?
MAH: In Djibouti, we have a Presidential system. The President is head of government and the Prime Minister coordinates the policy defined by the President.
It is the Prime Minister who represents the government in Parliament. This gives great political stability and also allows great flexibility of control over government's action. The President of the Republic has always supported parliamentary strengthening.
He agreed to a significant financial effort in this regard both in terms of equipment (buildings and installations) and in terms of the training of our elected officials and the influence of parlia- mentary diplomacy in general.
We are very satisfied with this encouraging state of mind and we support it in all areas falling within our prerogative.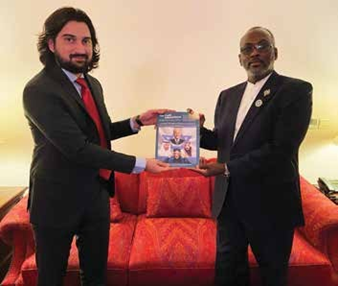 TTI: What do you think is the major problem of the Muslim Ummah these days?
MAH: The major problem of the Muslim Ummah, if I have to name just one, is the lack of unity of our "Ummah".
Our Muslim Ummah suffers from many superficial divisions. It is a handicap that prevents us from benefiting from the forces and other advantages that we can exchange with each other.
The wealth of some does not benefit other Muslims in need. The technological strength of some of our countries is underestimated by others and sometimes we wage war on such meaningless differ- ences.
What a pity !
TTI: Muslims are suffering in Palestine, India, Syria, Iraq, Yemen, Sudan and many more countries. How do you think Muslims can come out of this situation?
MAH: How can we bring our brothers out in the many countries that you have just cited from the many daily sufferings? I am sure you are forgetting many others unfortunately.
If only I could give you the solution ….
"The Muslim is the brother of the Muslim" as we were taught by our Prophet (Peace and Greetings to his soul). It would be enough to conform to these teachings to promote Peace and Prosperity not only in the Muslim world but in the whole world!
TTI: Africa is rich with natural resources from gold to agriculture. Despite that African countries are underdevel- oped. What do you think is the reason?
MAH: The underdevelopment of our African countries despite the abundance of natural resources is a question of time. We have come a long way since independence. African countries are emancipating themselves from the tutelage of the former colonial powers that have done everything to delay this in order to continue the exploitation of this wealth.
The great strength of Africa is its demography and the youth of its population!
Many countries are leading by example and filling us with hope!
The future is ours and soon Africa will be the engine of global growth!
In shaa Allah!
TTI: How has been your tour of Pakistan?
MAH: Personally, I enjoyed everything during this official visit. I was very pleasantly surprised by the quality of the meetings and the quality of the organization. The visits were very enriching. Pakistani hospitality, culture, dishes, landscapes and especially the friendliness of Pakistanis will remain for me and my delegation an excellent memory engraved in our memories.
On each of our travels, a warm and solemn welcome was reserved for us. We have welcomed the rapprochement that Pakistan wants with our country through parliamentary diplomacy and we have responded positively.
TTI: What is your comment on functioning of the democ- racy in Pakistan?
MAH: My impressions of how democracy works in Pakistan?
Masha Allah! God is big ! Pakistan is a source of pride in the Muslim world!
We have been following the elections [in Pakistan] for a long time. This visit was very fruitful. We have learned a lot and we will certainly use it to improve our own democratic system. Each democratic system can be improved and corresponds to the particular history of each country.

Gone are the days when some could boast of giving lessons to others!
You have every interest in keeping the harmony that reigns between the majority and the opposition because you perfectly symbolize the democracy that all countries seek.
TTI: What do you think our two countries (Pakistan and Djibouti) should do to increase political and trade relations? MAH: How to improve political and trade relations between our
2 countries? It's simple since they are already very good!
Our two countries are fraternal countries that share a lot in common.
It is true that we can always strengthen our historical links.
Our Pakistani brothers can bring us a lot thanks to their know-how and their products are of very good quality with affordable prices!
On the political level, my visit is an excellent example of bringing together and together we must follow up on increased and mutually beneficial exchanges.
We could organize a special Pakistani Products fair in Djibouti. We will put our chambers of commerce in touch for this!
Already many Pakistani products are selling very well in our country such as fans, textiles, cloth towels, etc. to name a few examples.
Many Pakistani brothers have lived in Djibouti for a very long time.
I am sure that we will open a new chapter in our common history! In shaa Allah
TTI: What can Djibouti import to Pakistan?
MAH: That's a good question, but I'm not the best person to answer such a question. Indeed, it is our merchants and our businessmen who will know how to answer them.
Let's give them the chance to meet!
This is what political leaders must serve: to offer opportunities to their citizens!
TTI: People to people contact in between-two-countries is always considered the most powerful connection. Will you advise your government to improve people-to-people contact between Pakistan and Djibouti?
MAH: As I told you before, our two peoples know and appreciate each other. In the first place, the tabligh is the densest link between the two peoples!
It is not by chance that Pakistan is called "the Land of the Pure"! Brotherhood in Islam is not theoretical among our Pakistani Muslim brothers!
Many Djiboutian brothers come every month and every year here in Pakistan! Masha Allah.
On the other hand, we can improve academic relations and send Djiboutian students to train in Pakistani universities and colleges! At this level, we can improve things.
In any case, there is a lot to do and we must continue to nurture our relationship to enrich it over time.
TTI: Your Parliament has signed an agreement with Pakistan's company The Truth International. What is this MOU about?
MAH: You know protocols, states, institutions, and political parties' signs all the time. And if you ask me how it will be differ- ent, I would tell you that the age-old connections that unite our two peoples are simply unique. Unique because Pakistan and Djibouti have a lot of similarity. Unique because we share the same religion and a similar culture. And this visit, in the middle of a pandemic period, also demonstrates the interest and willingness of the two parties to work together. And to top it off, I would say that we are very late and we don't want to waste any more time.
TTI: How will this MOU benefit the Djibouti Parliament? MAH: This agreement will serve as a leverage to set up other partnerships in different business sectors. We hope that our
country can benefit from exchanges with all those who are willing to cooperate with us, on a fair and profitable basis.
We have acquired over time, a certain expertise in the port field and we are ready to share our experiences and remain open to receive experiences in certain areas that we do not currently master.
This Agreement will serve as a framework for our two nations and a benchmark for the beginnings of successful cooperation.
TTI: Sometimes MOUs are signed and they are not followed up by agreement. How will you ensure that this MOU is converted into agreement?
MAH: That's a very good question. First of all, allow me to tell you that since my election as head of [Djibouti National Parlia- ment], I have noticed that in terms of parliamentary diplomacy we have not made the necessary efforts.
This is why and de facto I have decided that priority should be given to strengthening parliamentary cooperation. And believe me, it paid off. We have succeeded, in record time, in placing our parliament on the international stage and we are reaping the rewards today.
This is the historic first speaker of Djiboutian parliament visit to Pakistan and the second official visit in more than 40 years. The will and determination of my counterpart Muhammad Sadiq Sanjrani can only encourage us to move forward and consolidate the links between our two peoples and our two institutions.
Finally, to answer your question, we need to implement the proto- col first, and I'm confident for the rest.
TTI: Any message for the government and people of Pakistan?
MAH: The Pakistani people are a brave and hospitable people. Above all, they are the pride of the Muslim world. For my part, I will tell them to continue on the same path, bearing in mind that [an upright] and considerate nation is already living the founda- tions of democracy. I believe that the government must continue its efforts to maintain the stability and unity of its country.