Article by: Umer Farooq
The good news is that Washington will be back into the world of international alliances and bridge-building. Antony Blinken, nominated by President-Elect Joe Biden as his Secretary of State, is a known advocate of liberal international order—that places America into a situation where it has to sacrifice a lot for making liberal international order work.
The days of the combative "America First" policy pursued by President Trump are over. Now allies will find America more willing and ready to sacrifice its narrow interests for keeping the international alliances in place to confront the rising menaces like the financial and military strength of China.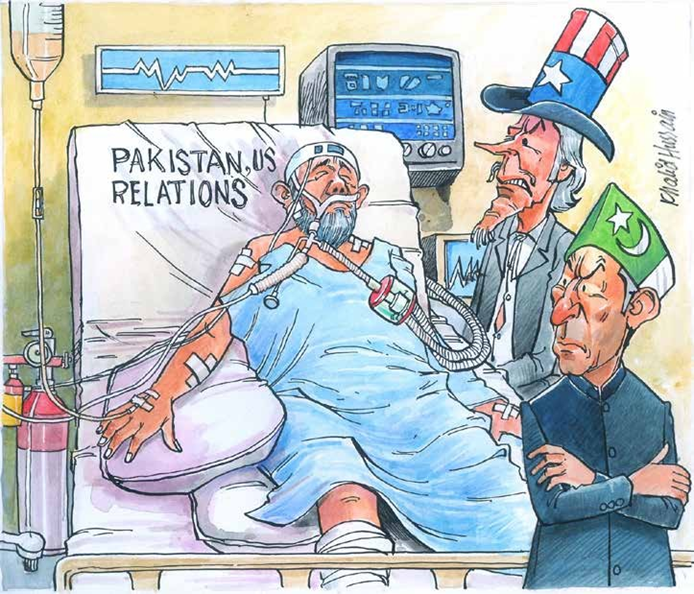 But maybe this is not very good news for Pakistan, as this would mean two things for America's regional policies: First, a perceptibly declining the United States would do its best to revive international alliances, mostly comprising of its western alliances and Middle Eastern Kingdoms, to confront the growing power of China, thus making it more difficult for Pakistan to navigate through the international system—a system which is already extremely unloving to Pakistan.
Secondly, there is a growing possibility that the Biden Presidency will grow cozier to India. There are already reports that the new Secretary of State would do his best to strengthen relations with India as a counterpoise to the rising financial and military strength of China. How attractive the Pakistani military and political establishment finds the prospect of stronger and closer ties with Washington moving into a closer embrace with India remains to be seen.

The Pakistani security establishment sees the security and diplomatic situation in the South Asia region through the prism of military developments. This means that any enhanced military cooperation between New Delhi and Washington would be seen as a direct threat in Pakistan. There are a number of agreements on the table that call for enhancing close military cooperation, military information sharing, and technology transfers to India from the United States, and these agreements have already caused a lot of concern in Islamabad and Rawalpindi.
The American media is clearly reporting that Secretary Blinken will base his foreign policy on proactive diplomacy on the part of Washington. "The world does not organize itself," New York Times quoted Secretary Blinken as writing in 2017.
"In the absence of an engaged, diplomatically energized America, others will set the agenda, shape the rules and dominate international institutions — and probably not in ways that advance our interests or values."
He will probably try to build an international coalition to put pressure on China. The Trump administration battled Beijing largely alone, using tariffs as weapons. But Mr. Blinken is expected to build closer ties with India and other Asian countries to focus on trade and tech investments as an alternative to partnering with China, reviving the pre-Trump game plan behind the Trans-Pacific Partnership.
Secretary Blinken is hardly a known figure in the political and military circles of Islamabad and Rawalpindi. He is an old-time policy advisor of President-Elect Joe Biden and is known for his diplomatic skills. South Asia would be a new experience for him but not for the President-Elect himself as he is considered an experienced and old Pakistan hand in Washington.
During his time as a senator and Vice President, he had developed enduring friendships with political and military leaders in Islamabad and Rawalpindi. His diplomatic engagement with Pakistan involved extending policy advice to Islamabad, devising a multi-billion dollar financial and military assistance program for Pakistan, and ensuring democratic transition in 2008 when the military dictator, General Pervez Musharraf was on his way out.
The public diplomacy record of the period doesn't indicate that Biden was ever enthusiastically engaged in bringing Pakistan and India to the negotiating table. But this area generally has been a forte of liberal internationalists in Washington that they advocate resolution of outstanding disputes between Pakistan and India through talks and negotiations.
It is not yet clear what the Biden Administration would balance promoting India as a counterpoise to China and bringing Pakistan and India to the negotiating table. Only time will tell what will be more important for Washington: ties with New Delhi or ties between New Delhi and Islamabad.
Pakistan's ability to influence the Afghan Taliban to come to some kind of peace arrangement with the US-backed government in Kabul clearly gives Pakistan's military and political leaders some leverage with the new Administration in Washington. There will be no difference between Trump Administration and Biden Administration on this point—both would want the Pakistani military and intelligence services to use their influence with the Taliban to bring down violence inside Afghanistan and to reach an understanding with the Kabul regime for the smooth functioning of government machinery in the war-torn country.
Pakistan's relations with the Biden Administration will largely depend on two factors. The first if these will be the degree to which the Pakistani intelligence services are successful in convincing the Taliban to bring down violence inside Afghanistan and reach an agreement with the Kabul regime. The second is Pakistan's ability or willingness to go after the groups inside Pakistan that Washing- ton perceives as threats to its security. Security experts believe that Washington's old mantra of "do more" might revive with renewed vehemence.
President-Elect Joe Biden has been a known supporter of democracy in Pakistan. It would be interesting to see how he approaches the current political imbroglio in Pakistan where a grand alliance of opposition is arrayed to bring down a government that is nearing half of its five-year term.
Some of the opposition members are directly accusing the Pakistani military of involvement in the country's politics. Biden has in the past eased Pakistan's transition from military rule to a democratic setup in Pakistan. He has also attempted to devise legislation that would put an end to military manipulation of the political and judicial processes in Pakistan.
The selection of Biden's national security team has already been reported in the American media. The new names suggest one pattern: The President-elect is determined to put the toxicity of the President Trump Era behind him. This would mean American diplomacy which is more proactive and more sensitive to liberal internationalist values.
Ironically, there are people in Islamabad who think that Pakistan's interests were better served with President Trump was in control. They think that Prime Minister Imran Khan had developed a close rapport with President Trump which would stand Pakistan in good stead.