In the capital of Myanmar, Nay Pyi Taw, water cannon have been used by police on workers conducting a nationwide strike against the military coup.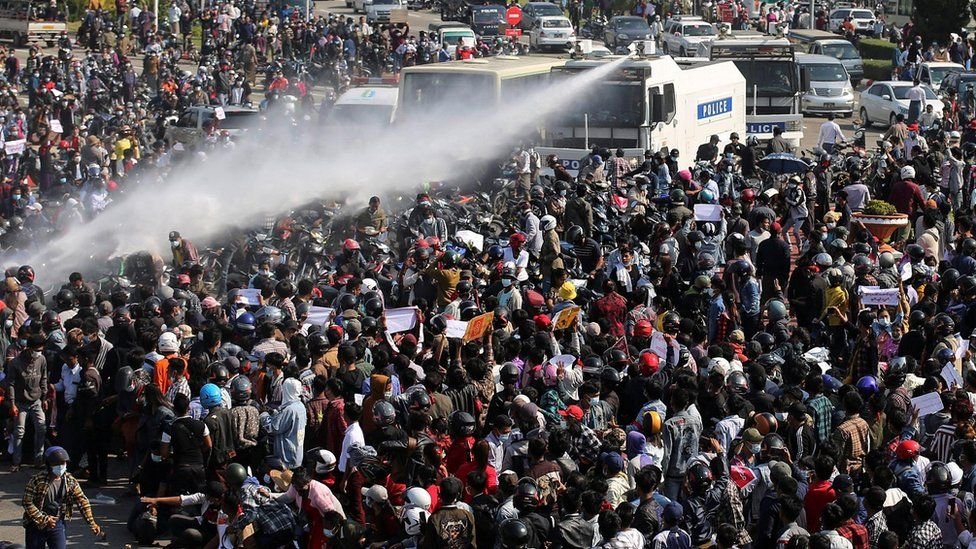 The protest enters third day as thousands of people take part in calling for the release of elected leader Aung San Suu Kyi and for democracy to be restored.
It is the biggest protest that the country has seen in 10 years.
The military declared a year-long state of emergency in Myanmar and power has been handed over to commander-in-chief Min Aung Hlaing. the military seized power last week claimiaing the election to be fraudulant.
Ms Suu Kyi and senior leaders of her National League for Democracy Party (NLD), including President Win Myint, have been put under house arrest.
According to BBC, tens of thousands of people had gathered, on Monday, in Nay Pyi Taw for the strike, with other cities such as Mandalay and Yangon also reporting significant numbers.
The protesters include teachers, lawyers, bank officers and government workers. About a thousand teachers have been marching from a township in Yangon towards the Sule Pagoda in the heart of Myanmar's main city.
In Nay Pyi Taw, police used water cannon on protesters in an attempt to disperse them, and there were reports of a few injuries.