Indian Counterpart Welcomes FM Bilawal At SCO Meeting In Goa
Indian external affairs minister Jaishankar welcomed Pakistan foreign minister Bilawal Bhutto Zardari during the Shanghai Cooperation Organisation's (SCO) Council of Foreign Ministers (CFM) meeting in Goa, India.
Bilawal Bhutto Zardari has since arrived at the conference hall to attend the meeting, which provides an opportunity for him to discuss key issues with his counterparts from other countries.
On the sidelines of the meeting, Bilawal held a discussion with his Tajik counterpart Sirodjiddin Mukhriddin, where they discussed a broad spectrum of bilateral relations and agreed to strengthen economic ties and ensure the early completion of connectivity projects, specifically CASA-1000.
Bilawal expressed hope that SCO will successfully achieve its objectives.
Bilawal Bhutto Zardari, the Foreign Minister, departed for Goa, India, marking his inaugural visit to the neighboring nation.
He is leading Pakistan's delegation at the Shanghai Cooperation Organisation (SCO)'s Council of Foreign Ministers meeting.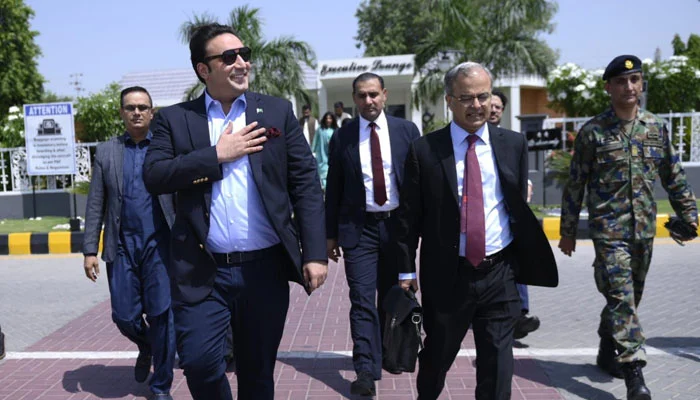 Prior to his departure from Karachi, Bilawal tweeted to reaffirm Pakistan's steadfast dedication to the SCO's charter.
In a short video message, FM said: "My visit [to India] illustrates how much Pakistan gives importance to SCO and how seriously it takes the SCO membership."
Expressing his eagerness to interact with the member countries of the international forum, the Foreign Minister stated that he was anticipating bilateral engagements.
Also Read: FM Bilawal Bhutto Zardari Departs For First-Ever Visit To India