Bollywood actress Richa Chadha mocked the Indian Army on Twitter. Richa Chadha made fun of the Indian Army with a Galwan taunt in response to a statement made by the Indian Army's Northern Command's Commanding-in-Chief that they are ready to retake Pakistan-occupied Kashmir if the government issues such an order.
Since then, she has removed the tweet. Here is a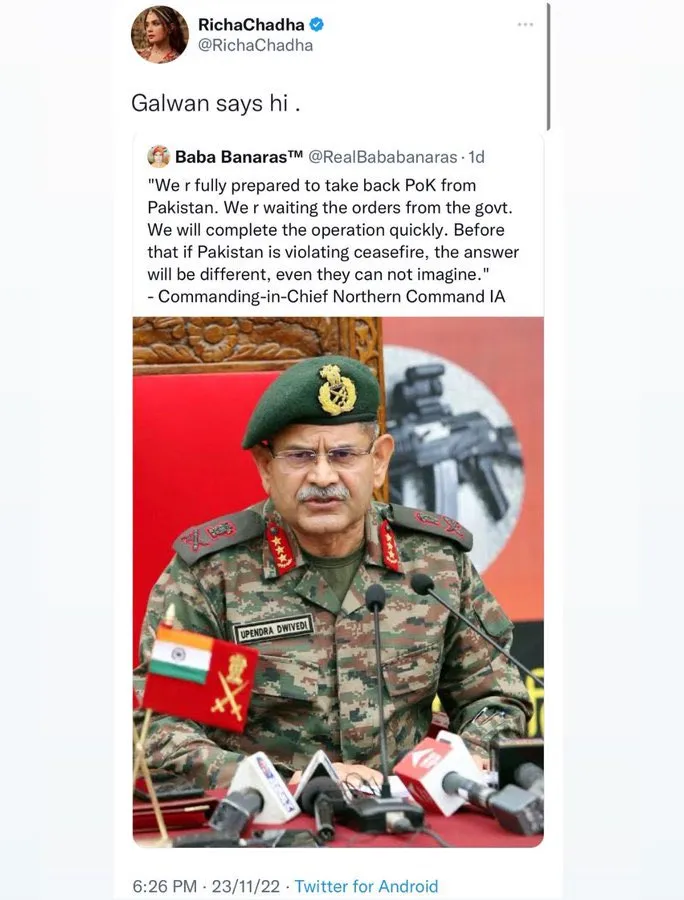 It is noteworthy that in June 2020, Chinese and Indian soldiers clashed in the Galwan valley, resulting in the deaths of 20 Indian soldiers. In the hours-long battle, several Chinese soldiers also lost their lives, but China has never publicly stated how many of its own troops were killed.
Even though both of these Asian superpowers have close to 60,000 soldiers each and cutting-edge weapons stationed in the region, there has been a tense ceasefire in the Ladakh theatre since that clash that resulted in significant casualties on both sides.
It was strange to see Richa Chadha make fun of Indian soldiers by referencing the time they engaged the Chinese army without any weapons and were ultimately successful in pushing them back.
Richa Chadha has demonstrated herself as particularly stupid in this case, not to mention insensitive towards the families of the 20 soldiers who lost their lives in Galwan, despite the fact that Bollywood celebrities are not known for having common sense or general knowledge.
Regarding the Indian Army's response to the PoK situation, it is a typical reply to illogical inquiries from Indian journalists. This is the only response the Army can offer when asked if they can retake PoK; it doesn't imply that they will invade Pakistan the next day, and we definitely don't want the Army to say they can't.
But it's odd that Richa Chadha implied the Indian Army couldn't do anything about PoK and made fun of them for losing 20 men in Galwan.
Richa Chadha is receiving criticism on social media following her tweet mocking the Indian Army with a "Galwan taunt."