YouTuber Irfan Junejo recently resurfaced on the platform with a video after 17 months of silence and his comeback has triggered a surprising conversation amongst men about mental health — a topic rarely broached publicly, especially in Pakistan.
Junejo — a popular Pakistani YouTuber with more than one million subscribers on his YouTube channel — had announced that he was taking a break from YouTube in 2020, citing mental health concerns. In a video titled 'I Quit', Junejo had spoken about battling various problems. "I have self-esteem issues," he had said. "I have anxiety issues. I don't have any confidence in me to make anything that I want to make and I'm too scared to say what I really mean."
Junejo's comeback video titled 'How NOT to get a Million Subscribers!' chronicles the YouTuber's struggles with anxiety, self-esteem, and even binge-eating in a lot more detail than he'd previously relayed. Junejo reveals mental health experiences that public figures hardly talk about on social media.
"I wasn't able to sleep for more than two to three hours," he said in the video, which was posted on July 24. "I used to secretly cry in the bathroom so that nobody in my house gets to know about it. I used to feel that someone somewhere is always looking at me in a hateful manner, laughing at me."
Junejo's video shares both his struggles and the measures he took to address them during his long break from YouTube, measures that have helped him reach a much better place than before — both mentally and physically.
The video resulted in a surprising yet welcomed outcome — it inspired many of Junejo's male followers to acknowledge that mental health issues exist in men and they need to address them rather than bury the issues within.
"Mental health issues are real," a user wrote on Twitter in response to Junejo's video. "It's always brave if you acknowledge your issues and try seeking help. No fame, no money is worth anything if you're unhappy Don't give up, take a break [and] heal yourself."
Many of Junejo's followers acknowledged their own struggles, which in turn encouraged many others to share similar personal experiences.
"I'm suffering from my mental health," a user emotionally replied on Junejo's video. "[I'm watching Irfan's video and literally crying. His words totally touched my heart and yeah I don't know why I'm writing this but when I watched the video, my mind said just write what you want to say."
"I not only watched these eight minutes but felt every single word from them," another user commented. "Stay strong brother. Good to have you back."
"I am not a YouTuber and work in a totally different field but everything you said in the video, it felt like you are telling my story," commented a user on YouTube.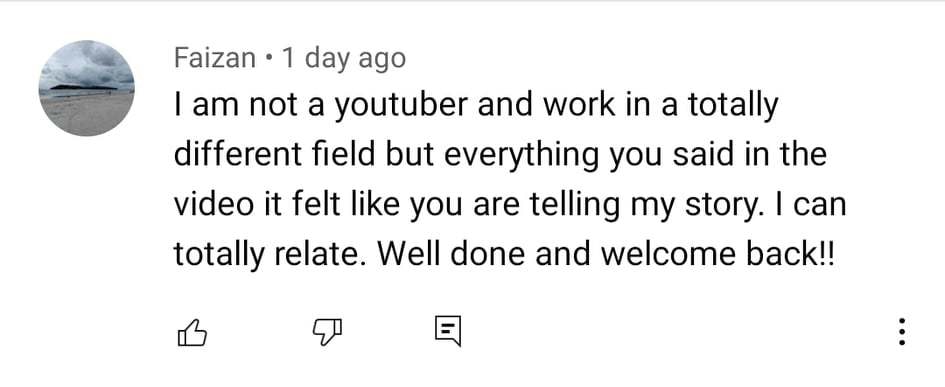 "I am at the stage where I [have] lost my motivation and [am] surrounded by negative thoughts but [I'm] hoping for this era to end soon," another commented.
"Irfan Junejo's condition 17 months ago [is] my condition right now," a user shared on Twitter.
"As a YouTuber, I can relate," wrote one user. "There was [a] time when everything felt useless. I lost my motivation. My dad passed away. But after a break, once I spent time with my family and friends, and most importantly I gave myself time, I got my motivation back!"
Other users praised Junejo and encouraged people to talk about their struggles more.
Junejo broached a difficult topic that's rarely spoken about by men in Pakistan. Conversations on mental health are socially stigmatized to make men seem less "manlier" than how they ideally need to be in society. Such toxic perceptions of manhood make it more difficult for men to speak about mental health issues that plague their wellbeing and hinder their everyday lives.
Junejo's courage in sharing his own journey has set a rare precedent for other men to talk about their mental health struggles openly and loudly with others. Kudos to the YouTuber for taking the much-needed step on social media.