Recently, social media sensation Khaby Lame and Bollywood actor Sonu Sood starred in a humorous project.
The actor from "Happy New Year" was seated next to him in an Instagram video that the Senegalese-Italian comedian posted with the caption, "When Sonu's straw steals the spotlight #learnfromkhaby #learnwithinstagram #india @sonu sood."
Each of the two people was given a glass and a jug of juice. Sonu is seen pouring most of the juice into Khaby's glass while looking at a phone. Sonu adds a sipping straw and the last of the juice, which is just a few drops, to his glass quietly.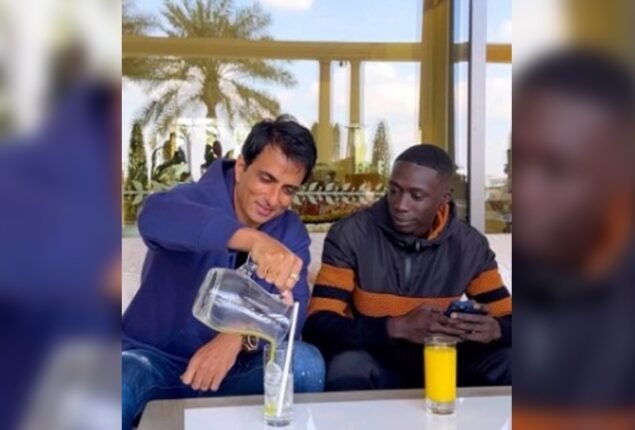 Khaby appears to offer Sonu his glass of juice, but Sonu observes and politely declines. When Khaby quickly removes the straw from Sonu's juice glass and places it in his own, the video's plot twist happens. Then he makes his signature motion, pointing with both hands as if to state the obvious.
Towards the end of the video, when he finishes his own juice, Sonu can be seen displaying signs of frustration.
Fans were enthralled by their entertaining video. They expressed their feelings in the comment section by using laughing emojis.
WATCH NOW:
https://www.instagram.com/reel/CmKD87qou3H/embed/captioned/?cr=1&v=14&wp=675&rd=https%3A%2F%2Fwww.geo.tv&rp=%2Flatest%2F458922-sonu-soods-hilarious-video-with-tiktok-star-khaby-lame-goes-viral#%7B%22ci%22%3A0%2C%22os%22%3A2781.7999999970198%7D