Interview by: Haider Riffat
What pulled you towards Kathak?
I started learning ballet as a child but didn't like it very much. I think it just wasn't for me. So, my mum enrolled me at Gurukul Dubai – a Kathak academy where I began learning under the artistic guidance of Guru Pali Chandra.
Initially, it was just another extracurricular activity after school but it soon became an art form that got very close to my heart. I think it was because I had lived abroad all my life, first in the U.K. and then the UAE. Kathak connected me with my roots. It felt like home. It just felt right!
As a child, I always visited Pakistan but Kathak was some- thing that drew me to my culture so much more. I started falling in love with the intricacies of qawwalis, ghazals and was mesmerized by the art of our culture. Soon, Kathak became my life!'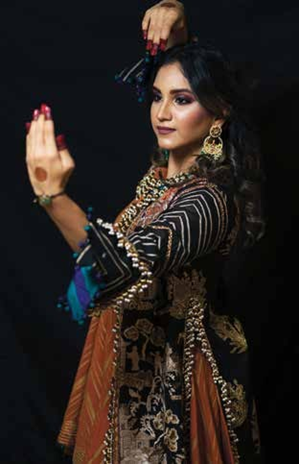 Where does Kathak originate from?
Kathak is one of the eight Indian classical dance forms, stemming from the Northern areas of India. The word Kathak originates from the word Katha, which in English means a story. Thus, Kathak is the art of storytelling.
It began as a folk dance but then Kathak dancers began to narrate stories in temples. Kathak was then less driven by mythology and went into the Mughal era. The content of Kathak changed as it became more about entertainment than spirituality, like it was before. That is when Urdu was introduced into Kathak.
What is the art of perfecting Kathak?
I don't think you can ever perfect an art form, but the key behind strengthening your technique and becoming a better artist is practice. Riyaaz is the most important part of your training.
Is Kathak limited to women only or do men also perform this dance type?
There are no restrictions regarding age, weight, gender or religion. Nothing! The only restriction is accessibility. If one does not have access to a teacher then of course Kathak is not possible to learn.
How is Kathak freeing for you as a person?
I love being able to let go and express myself without judgement and restriction. I feel free when I dance. It allows me to be me. I am able to express all my emotions, feelings and anything I wish to through Kathak. It is absolutely freeing!
Has the scope of Kathak died down in Pakistan, in your view? Do you feel that we do not value this kind of dance as much as the outside world?
There is a lot of scope for Kathak in Pakistan, however, there are a number of small steps that we need to take first. The art form is often frowned upon due to misconceptions about the dance. The lack of understanding and knowledge of the art form has not raised awareness about Kathak. I think its acceptance is vital. When our people realize how beautiful Kathak is as an art form, a number of doors for this kind of dance would open in Pakistan. Many years ago, there were a number of established Kathak artists in Pakistan. Kathak was a part of school activities. It was an encouraged and progressive process.
Is the word Kathak stigmatized in Pakistan for being classified as Indian?
I have never had anyone comment on the roots of the art. So, no. After all, Pakistan and India were once one.
What are some misnomers about the Kathak dance specifically in Pakistan?
Often Kathak artists in Pakistan are referred to as naachnay waliyan or are told they are performing a mujra.
Do you feel that dance was still something you wanted to pursue despite belonging to a country where women and their professional choices are questioned?
Yes, a hundred percent. Fortunately, my family and friends have always encouraged me.
How does Kathak promote Pakistan's arts and culture?
I try my best to collaborate with Pakistani artists and musicians to help promote them, be it through Urdu ghazals or thumris. By celebrating and practicing these traditional art forms, we can revive and promote Pakistan's rich heritage.
More often than not, I use musical compositions that Pakistani artists have created. I love supporting our singers, musicians, bands, and all of our artists in general. That way, artists support artists and help each other even when others don't recognize us.
What would you like to say to young women who are into Kathak and want to pursue it but their parents and extended families are negligent of this career choice?
I always encourage young people who have a passion for Kathak to pursue it as we can keep our culture alive through our art forms. Young people who have the courage to become dancers can end the stigma around Kathak, which can open doors for so many more aspiring artists. I also believe it is the duty of parents to support their children and be accepting of the drive and the passion their children may have, especially when it is celebrating such a beautiful art form.
Unfortunately, as acceptance is not inherent in our people, it is harder for elder generations to encourage youngsters to actively seek opportunities in dance in general. However, with growing knowledge comes acceptance. So, I encourage my students to educate their parents and grandparents whenever possible. Word of mouth spreads greatly in our culture, so why not spread the beauty of our art form too?