Why Pakistani hashtags are trending in the Netherlands?
Despite the easing of restrictions on mobile internet, the Pakistan Telecommunication Authority (PTA) continues to block the majority of social media sites in Pakistan.
After riots erupted following the detention of former prime minister Imran Khan in May 2009, the telecom regulator placed limitations on internet and social media usage.
Despite the government's decision to lift the limitations on mobile internet, users must use a virtual private network (VPN) to access Facebook, Twitter, Instagram, and YouTube throughout the nation.
Since restrictions have been imposed, there has been a sharp rise in VPN usage, which has caused Pakistani hashtags to become popular in other nations, like the Netherlands.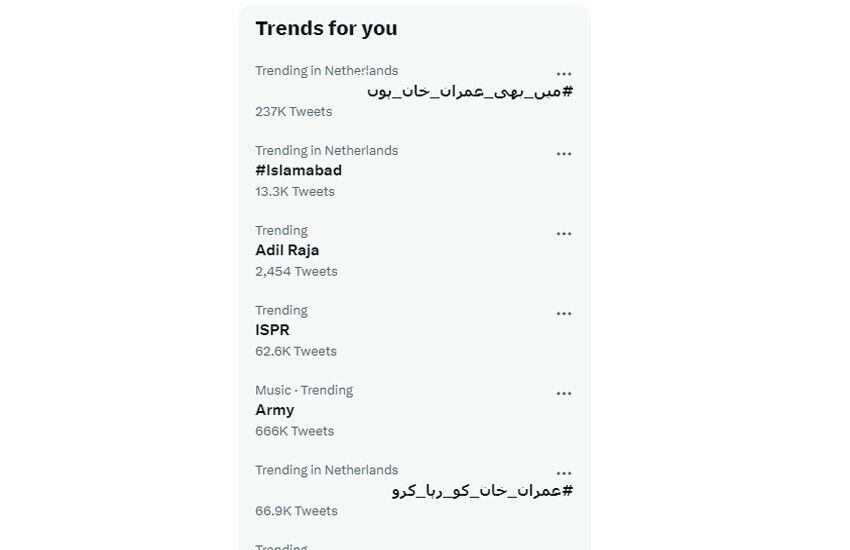 A PTA representative told that although they had been given instructions to restart internet service, they had not been given any to provide access to Twitter, Facebook, or other social media sites.
Usama Khilji, the Director of BoloBhi, remarked on the situation and claimed that despite the return of mobile internet connection after four days, Twitter and YouTube are still blocked in Pakistan.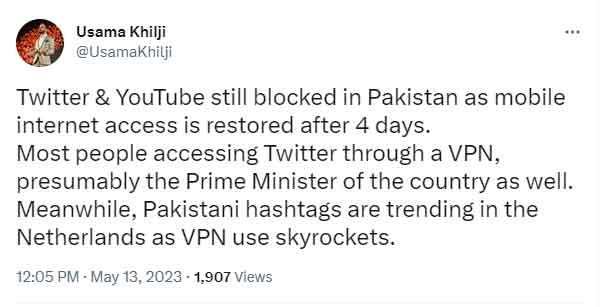 According to Khilji, the majority of users, including the nation's prime minister, access Twitter through a VPN.
As VPN usage soars, "Pakistani hashtags are trending in the Netherlands."
Journalist Shiraz Hassan from Islamabad uploaded a screenshot of Pakistani hashtags that were popular in the Netherlands on Twitter.
Also Read: PTI Female Leaders Shirin Mazari, Dr Yasmin Rashid Also Arrested
Jehan Ara, an IT expert, likewise disapproved of the action and said she couldn't understand it.

"This is not the first time this has happened. I thought access to information and freedom of expression were basic human rights guaranteed to us under the Constitution. And we claim to be a democracy?" she tweeted.