ISLAMABAD: On Sunday, Supreme Court Judge Justice Qazi Faez took oath as the 29th Chief Justice of Pakistan (CJP). This transition occurred after his predecessor, Umar Ata Bandial, retired from his position a day earlier, hanging up his robes.
President Dr. Arif Alvi administered the oath during a ceremony at the President House in Islamabad, attended by top government and military officials, including caretaker Prime Minister Anwaar-ul-Haq Kakar, Army Chief Asim Munir, senators, and foreign ambassadors.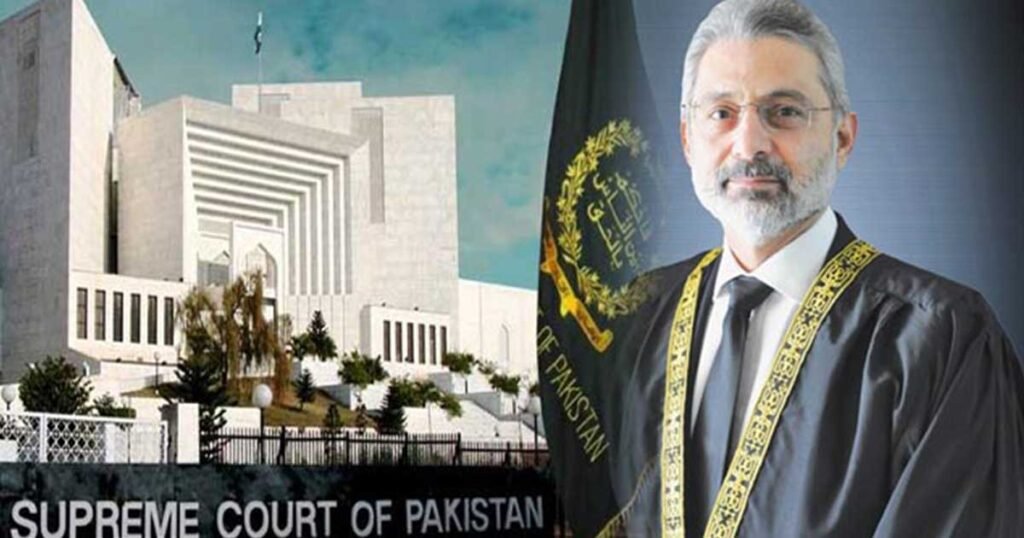 However, Justice Isa's tenure as the country's chief justice will be short, as he is going to retire on October 25, 2024. He assumed the role of an apex court judge on September 5, 2014, but in the past three years, despite being the senior puisne judge, he was not assigned any constitutional cases due to a 2019 presidential reference against him.
Born on October 26, 1959, in Quetta, the newly-appointed top judge of the country is the son of the late Qazi Mohammad Isa, a prominent figure in the Pakistan Movement and a close associate of Quaid-e-Azam Muhammad Ali Jinnah. Justice Isa completed his early education in Quetta and pursued O and A levels at the Karachi Grammar School. He then furthered his legal education in London, where he completed the bar professional examination at the Inns of Court School of Law.
A Distinguished Legal Career and Path to Chief Justice
Justice Isa began his legal career by joining the Balochistan High Court on January 30, 1985, and later became an advocate of the Supreme Court in March 1998. During the emergency declared under Pervez Musharraf's rule on November 3, 2007, he chose not to appear before judges who took the oath under the Provisional Constitution Order (PCO). After the Supreme Court annulled the November 3 decision, they appointed Justice Isa directly as a judge of the provincial high court on August 5, 2009.
Before his judicial appointments, Justice Isa dedicated 27 years to the legal field, offering his expertise in various high-profile cases, including international arbitrations. Over the past five months, he restricted his activities to chamber work as a form of protest due to his disagreements with the chief justice regarding suo motu powers.
In March of the current year, Justice Isa and Justice Qazi Ameenuddin issued a ruling, suspending the hearing of all cases under Article 184(3) until the apex court establishes rules regarding the SC's Practice and Procedure Act.
With a 45-year legal career, Justice Isa boasts a diverse background.
Before assuming the role of a judge, he authored articles on subjects like the Constitution, law, Islam, and the environment, which Pakistan's leading English news publications published.
Additionally, he co-authored the book 'Mass Media Laws and Regulations in Pakistan' in 1997 and authored the report 'Balochistan: Case and Demand' published by the Pakistan Institute of Legislative Development and Transparency (PILDAT) in 2007.