ISLAMABAD: A sweater worn by the late Princess Diana of Britain, featuring a design of a black sheep. It is set to be auction later this summer. The jumper carries a price estimate of up to $80,000.
The red sweater, is made by the knitwear brand Warm & Wonderful. It will be the highlight of Sotheby's Fashion Icons online sale from August 31 to September 14. It was discovered earlier this year in an attic by one of the brand's founders.
The distinctive sweater was first worn by Princess Diana in June 1981. while she watched Prince Charles play in a polo game, just a month before their wedding. The sweater's design features a lone black sheep among rows of white sheep. That is leading to speculation about its potential significance.
After the sweater damage on the wrist, Princess Diana's private secretary, Oliver Everett, wrote to Joanna Osborne, the co-founder of Warm & Wonderful, to inquire about repairs. The sweater was subsequently sent back and later replaced. Diana was photographed wearing the replacement sweater in 1983. However, the original sweater was only rediscovering in March. When Joanna Osborne found it in a box stored in her attic.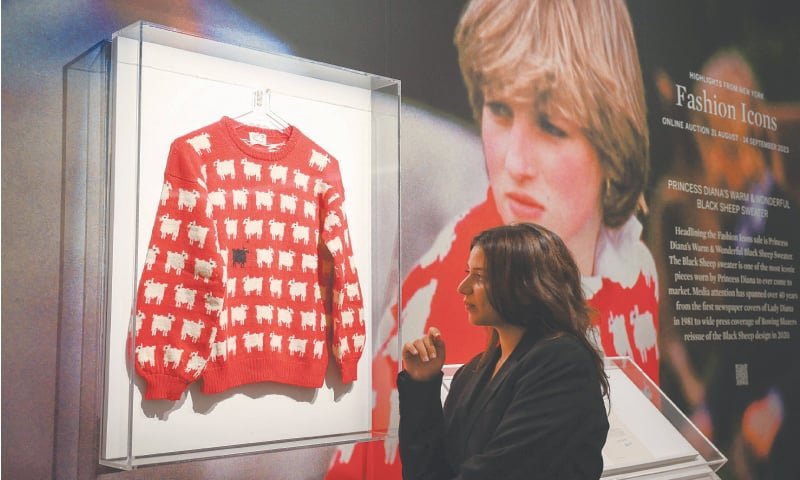 During a press preview in London, Cynthia Houlton, the global head of fashion at Sotheby's, express her thoughts. Regarding, Princess Diana's choice to wear the replacement sweater.
Houlton acknowledge that as a princess Diana had access to a wide array of clothing options. It making her decision to request a replacement. Then wearing it again two years later was quite significant. Houlton believes that this choice reflects the sweater's deep meaning to Diana.
The sweater, offers for sale along with the two letters from Oliver Everett to Joanna Osborne. It has an estimated price range of $50,000 to $80,000.