ISLAMABAD: On Thursday, Interim Prime Minister Anwaarul Haq Kakar emphasized that the government is committed to fulfil Pakistan's agreements with multi-financial institutions "at all costs" and will not permit any deviation from them.
PM Kakar acknowledged, today, that he had recently become aware of protests concerning electricity bills. This comes as Pakistan grapples with various economic challenges, including surging inflation, a depreciating rupee, and dwindling market confidence.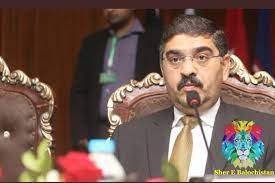 In recent days, citizens from all over the country have protested and raised their concerns about exorbitant power bills.
Up until now, the government has refrained from introducing any relief measures. This approach aims to delicately balance between avoiding disapproval from the International Monetary Fund. It also aims to avert a situation where citizens grow even more disgruntled.
Yesterday, caretaker Finance Minister Shamshad Akhtar addressed senators. She urged both senators and electricity consumers to "moderate their expectations." She cited the country's limited fiscal capacity as the reason, which doesn't allow for subsidies or relief.
Navigating Power Challenges and Governance Dynamics: Insights from PM Kakar
The premier acknowledged that he had recently found out about protests regarding electricity bills.
"We [the interim set-up] have no ulterior motive, plan or larger-than-life grand ambitions for which we are speaking here," interim PM stated. "It is not like oppressive rulers have come to power and are sucking the blood of the poor.
"If someone is thinking like this, then they must shun this thought," he further added.
PM Kakar recollected that during the 1990s, load-shedding emerged as a formidable issue. It led governments to engage with independent power producers (IPPs) through contracts aimed at boosting power generation.
"However, we failed to anticipate the consequences of these contracts, which involved additional surcharges," he remarked, highlighting issues in transmission systems and the bill collection process.
The prime minister emphasized that while one part of the city was discarding power bills, another part was actively involved in stealing electricity. As a result there was an estimated electricity theft of approximately 200 to 400 megawatts (MW).
"When our population was growing, we did not realise that our power structure remained dependent on fossil fuels and imported fuel. Whatever we were doing was on foreign reserves [in dollars] and that is impacting our other governance aspects."