Premier Li Qiang is 'expected' to represent Beijing at the Sept 9-10 meeting in New Delhi
ISLAMABAD: Sources familiar with the matter in both India and China have revealed that Chinese President Xi Jinping is likely to skip the upcoming G20 leaders' summit in India next week.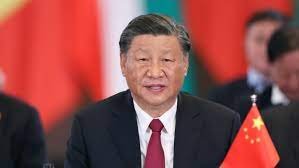 Two Indian officials, consisting of a diplomat based in China and another official from a different G20 country, have indicated that Premier Li Qiang is likely to be the representative for Beijing during the meeting in New Delhi on September 9-10.
Requests for comment made to the spokespersons of the Indian and Chinese foreign ministries have gone unanswered.
According to a report from Kyodo, there are also expectations of Li's attendance at a summit of East and Southeast Asian leaders in Jakarta, Indonesia, scheduled to take place from September 5-7.
Initially, observers viewed the summit in India as a potential avenue for a meeting between Xi and US President Joe Biden, who has confirmed his participation.
The intention behind this meeting is to mend the strained relations between these two major superpowers due to various trade and geopolitical tensions.
It's worth noting that Xi's last interaction with Biden was on the sidelines of the G20 summit in Bali, Indonesia, held in November of the previous year.
In contrast, Russian President Vladimir Putin has publicized his decision not to travel to New Delhi. Instead, he will be sending Foreign Minister Sergei Lavrov to the event.
A senior government official from the hosting country, India, mentioned, "we are aware that the premier will come", in place of Xi.
Two foreign diplomats and an official from another G20 country, all based in China, have indicated that Xi will likely not be travelling for the summit.