Portugal's legendary footballer Cristiano Ronaldo got a heroic welcome in Jeddah, Saudi Arabia on Monday.
He landed in Jeddah along with his family members on a private jet on Monday after signing his career's best deal with Jeddah-based Al-Nassr football club.
On Tuesday, Al-Nasr has arranged a big ceremony to welcome Cristiano Ronaldo at Marsool Park Stadium. Ronaldo and Al-Nassr are signing a contract sealing the two-year deal while the legendary footballer will meet his Saudi fans and media.
According to media reports, Al-Nassr club of Saudi Arabia has offered about $200 million annual payment to Ronaldo, making his career's highest-ever deal.
Ronaldo's shirts carrying his name and trademark (number 7) were flying off the shelves of sports shops across the Kingdom of Saudi Arabia from the day Al-Nassr announced its deal with Rolando.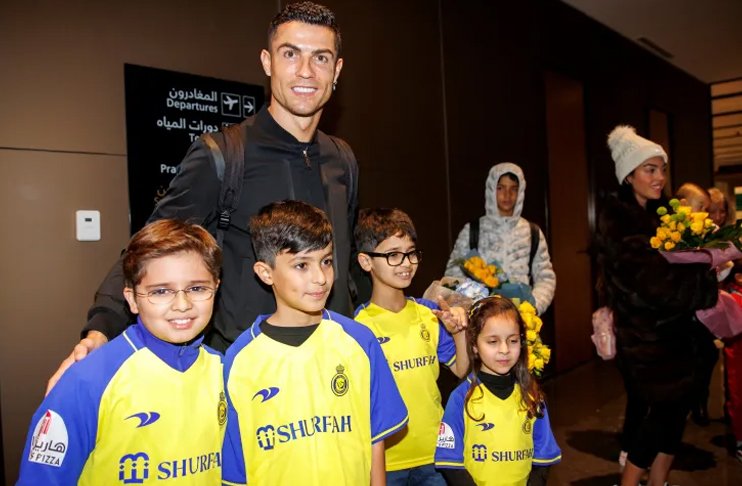 A renowned football legend _ Cristiano Ronaldo is signing today a mega deal with Saudi Arabian football club till the year 2025 to earn about $200 million a year.
Al Nassr of Saudi Arabia announced the landmark deal for Middle Eastern soccer that will bring one of Europe's biggest stars to Jeddah. Rolando, who belongs to Portugal, is famous the world over for his wonderful style of playing football.
Saudi Arabia's Al Nassr club announced the deal through its Twitter account. Saudi club has shared a picture of the five-time Ballon d'Or holding up the team's jersey after signing of the deal.
"This is a signing that will inspire our club to achieve greater success and influence our league, our nation, and future generations, to be the best version of themselves," the club wrote.
It is a landmark deal that may be the last one in the career of Cristiano Ronaldo.