Pak vs NZ: Tom Latham made captain as New Zealand name squad for Pakistan ODI series:
The New Zealand cricket board declared the team for the Karachi tour, comprising 15 members for the upcoming five-match ODI series against Pakistan.
They appointed Tom Latham as the captain.
The Black Caps will play a T20I and ODI series during their visit to Pakistan later this month.
official statement
The official statement confirmed that Ben Lister and Cole McConchie would debut during the tour.
The statement confirmed that the T20 squad to tour Pakistan would include the regular Canterbury skipper, who was selected for his exceptional performance in domestic cricket across all formats this season.
Cole McConchie, who scored 1,140 runs and took eight wickets this season, has also been included in the squad. Ben Lister, who was part of the ODI squad to face Sri Lanka in the recently completed ANZ ODI series, has the opportunity to add to his international T20 debut against India earlier this year.
Apart from these new faces, the 15-man squad includes experienced players, including six members of the squad that made it to the final of the ICC Cricket World Cup 2019.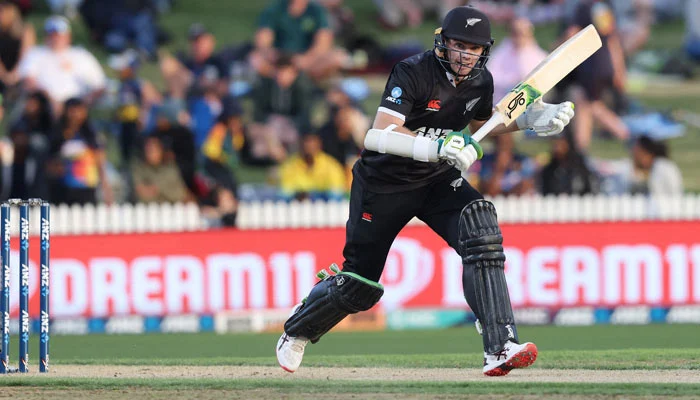 Additionally, nine players from the squad have recent experience in Pakistan, featuring in either the Test or ODI Squads which were played in Karachi earlier this year.
Saqlain Mushtaq, an experienced coach, will join the travelling squads and provide them with extra knowledge of Pakistani conditions.
NZ coach Gary Stead expressed his excitement for the upcoming matches against Pakistan in both white ball formats, stating that the team is tough no matter where they play.
The successful ODI series earlier this year provided important learning opportunities for the players, especially with the World Cup approaching. Saqlain's experience will be a big boost for the group, particularly for the spin bowling group.
Stead praised Cole McConchie's consistency this season, noting his valuable skill set with bat and ball, which will be especially useful on this tour.
He also praised Ben Lister's eagerness to learn since joining the Black Caps environment and commended his efforts in making his debut in India, acknowledging the challenge it posed.
Pakistan vs New Zealand T20I schedule:
Apr 14 — 1st T20I, Lahore
Apr 15 — 2nd T20I, Lahore
Apr 17 — 3rd T20I, Lahore
Apr 20 — 4th T20I, Rawalpindi
Apr 24 — 5th T20I, Rawalpindi
Pakistan vs New Zealand ODI schedule:
Apr 26 — 1st ODI, Rawalpindi
Apr 30 — 2nd ODI, Karachi
May 3 — 3rd ODI, Karachi
May 5 — 4th ODI, Karachi
May 7 — 5th ODI, Karachi