Pak Vs Ind:  ICC World Cup To Be Held At Narendra Modi Stadium
In the ICC 50-over World Cup this October-November, the Narendra Modi Stadium in Ahmedabad will host the much-anticipated match between India and Pakistan.
This fixture will mark the first time the two arch-rivals will face each other on Indian soil since 2016.
The BCCI selected the stadium in anticipation of a large number of fans expected to travel from abroad to witness the game, as it can accommodate up to 100,000 people.
The BCCI will announce the World Cup schedule at a grand launch once the Indian Premier League (IPL) concludes. Matches will begin on October 5.
Shortlisted Venues
BCCI has shortlisted venues in Nagpur, Bengaluru, Trivandrum, Mumbai, Delhi, Lucknow, Guwahati, Hyderabad, Kolkata, Rajkot, Indore, Bengaluru, and Dharamshala.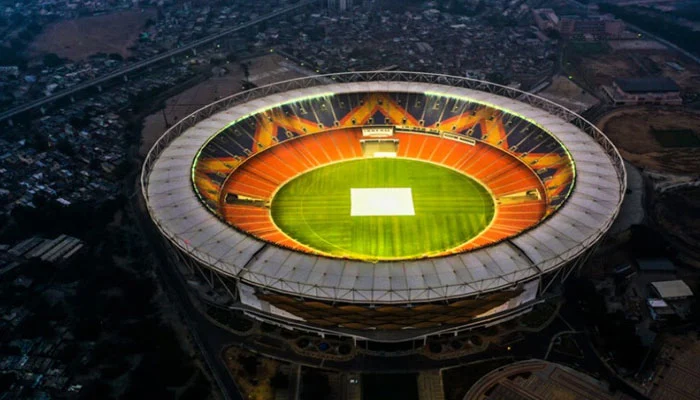 However, the BCCI has only selected seven venues for India's league matches, and Ahmedabad is the only venue where India could play two matches, provided the team reaches the final.
Pakistan and Bangladesh
Pakistan and Bangladesh may play most of their matches in Chennai, Bengaluru, Guwahati, and Kolkata, respectively.
To ensure favorable conditions for their upcoming matches, the Indian team management has consulted with the BCCI regarding their preferences for venues, aside from the game against Pakistan.
Specifically, the team has requested that fixtures against Australia, England, New Zealand, and South Africa be held at venues that have slow pitches to maximize their home advantage.
While state units have submitted their desired locations to the BCCI, the final decision regarding match allocation will rest with the BCCI.
It is likely that India's match against Australia will be at Chennai's MA Chidambaram Stadium.
Also Read: Pakistan Filled With Formidable Players And Squad, Confident About World Cup Prospects
While games against New Zealand, England, and South Africa will take place in other centers with slow pitches.
Ahead of the World Cup, the BCCI has earmarked over Rs500 crore to upgrade stadiums throughout India.
Upgrading existing infrastructure, including clean toilets, easy access, and clean seats, is a top priority for the BCCI following recent criticism of stadium conditions.